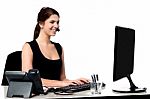 Businesses can utilize modern technology to become more efficient and increase cost savings while providing better customer service. One of those technologies is VoIP or Voice over Internet Protocol phone systems.
With that in mind, why should your business consider switching?
More than Just a Phone Service
While VoIP offers the same features that you get with regular phone service, it gives you much more.
You get voicemail, call waiting, call forwarding, and other features. But other features enhance your business that you can't get with traditional phone companies.
Many of these features can allow your business to be more productive.
The ability to transcribe your voicemail messages to email allows you to record important information without having to replay the message.
It also permits you to receive your messages in a convenient fashion even when you are away from the office and contact customers more quickly.
Improved Customer Service
Coaching tools on VoIP allows managers or supervisors to listen in on phone conversations their employees are having with customers without disturbing anyone. They can even whisper instructions and advice without the client overhearing. This not only makes a good training tool but can help employees deal with difficult clients.
Auto attendant allows customers to be connected with the right extension without having to be transferred. This saves them the time and hassle of going through a live person when they already know where they need to go.
Improved Cost Savings
Using VoIP helps save businesses money because VoIP providers are cheaper than traditional telephone companies.
It also allows people to connect to the system from anywhere as long as they have a VoIP phone. You can access the system through email, which is ideal when you are traveling.
You don't have to spend a lot of money or change your system completely to switch over to VoIP. Just use a VoIP converter and connect it to any standard phone.
You can find systems such as the Ooma Telo VOIP phone system from major retailers like Walmart.
Improved Staff Relations
A VoIP service allows you to hold conferences with your staff even when you are away.
Just connect an IP phone and you can hold meetings over important topics from anywhere.
It's also ideal for the staff members that are working from home full-time or even a day or two a week. It's much easier for them to keep track of what is happening at the office and to feel part of the group. They also receive calls as if they were in the office and no one can tell the difference.
As more businesses offer the option for staff to work at home, a VoIP system becomes even more valuable.
It is one way of making employees feel like they are part of the team while giving them the flexibility they value.
As you can see, a VoIP system provides numerous benefits to a business whether in employee relations, customer service or with cost savings.
See how it can help your business and implement your own VoIP telephone system.
Photo credit: Image courtesy of stockimages / FreeDigitalPhotos.net
About the Author: Joyce Morse is an author who writes on a variety of topics, including SEO and technology.