How to Own Every Day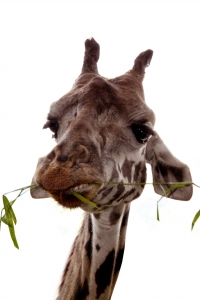 I used to not like mornings. Monday mornings were the worst. I liked them so little that I thought of Sunday as the impending doom … that made my weekends even shorter.
One day it dawned on me that if I lived to be 70 holding on to this feeling about Mondays, I'd have discounted 10 whole years of my life. Ten years — 520 Mondays lost, crashed, and burned — due to a bad attitude. I had to find a way to get and stay motivated. I had to get back my Mondays. I was pretty sure that I didn't have enough future left to be throwing away 10 years like a fool.
Monday mornings made feel like a giraffe — all gawky and spotted, all sleepy eyed and too tired to chew my food. I needed motivation. But I wasn't sure I knew how to do it. It would take some experimentation. I got down to it.
Who wants to sleepwalk through life? I had things that needed doing.
The Top 7 Ways to Motivate Yourself Even on Mondays!
Motivation, without it, we move slower. We're susceptible to distraction and procrastination. Inside a company or working from home, what fuels our success is motivation — that reason, that determination to make something good happen.
I figured out early that it wasn't such fun to be unmotivated. In fact, it was both stressful and boring. I didn't like myself much and maybe that is what struck that match that got the home fires burning. Once I made it a quest to motivate myself, the rest was mostly easy. Here are 7 ways I found to motivate yourself even on Mondays!
Feel all of your senses with amazing experiences. Give yourself the luxury of time to enjoy your shower. Wear clothes that feel good on your skin. Drink delicious coffee. Eat lovely food that smells good while you're fixing it. Look at fabulous colors. Listen to amazing music. It's hard not to feel alive when you put your whole body into the experience. Don't just bring your head into the day show up with every cell of you. Let your DNA have a chance to be part of what you're doing.

It's no accident nature puts on such a great show at sunrise – it inspires, invigorates, and motivates human beings. Try to see it. Don't just look at walls, windshields, and buildings.

Live every day as a quest. Work is work, but a quest is valiant and noble. Don't just brainstorm, conspire. Let your fingers dance on the keyboard as you type. Smile while you think. Enjoy your food. Don't just walk, stride — feel the ground beneath your feet. When you stop for a break look at the sky. Dare yourself to find everything easier, faster, more fun, and more meaningful.
Work at your best learning level — your challenge sweet spot. Beak down your challenges to meet your skills set. Challenges that are too easy are boring. Challenges that are too hard cause anxiety. Neither state moves to action. Challenges that fall equally between anxiety and boredom inspire us. They catch our attention and feed our need to grow.
Know that almost any work can be motivating. Whether you're copying documents or cleaning up after a party, devise a way to put the task in your challenge zone. Time it. Measure it. Set a standard for your personal performance. Turn the work itself into art form. Make it a game.
Get curious and confident. It's hard to think of a knot as a problem when you curious about what holds it together and confident that you'll find the way to unravel it. Be alert. Be aware. Notice things. People who notice things know more than people who don't. Then choose the things you notice energize you. Let them fuel your day. Ask new questions. Rather than asking, "What will I do to fix this problem?" try "How can this situation be a strength?" "How can go with it and end up with a better than what I had in mind?"
Stop listening to the voices in your head. Those voices undermine determination and focus. Tell them you might have needed them once, but you know what you're doing today. Lock them away and get on with being productive. You know how.
Appreciate your ability to choose to be in a good mood AND appreciate the people who respond to that good mood in good ways! You'll get energy from doing both. Let it fill you up. Be liberal with your smiles and your thank yous. Give a few extra smiles and thank yous to the folks who try to steal energy from you. Be confident that they'll enjoy their bad moods even more if you leave them alone.
The trick to motivation is knowing that every bit of it is in our control. Even if we start to go off track, we can go back to number 7 and choose again to be in a good mood. Then start all over at Number 1 … No day is lost until we give it up.
It's your day. It's your life. You've got 7 ways to own every day.
Why would you spend a minute in unmotivated and boring?
Be irresistible.
–ME "Liz" Strauss
Work with Liz on your business!!