That Was the Question
Some of you will click away before you read this — for whatever reason — we can't invest in every message offered us or every person who brings it. For those who stay, thank you.

About a week ago, I spent time with someone I've known since I was 7. By the time one day had turned well into the next, we had caught up our lives and were well into our thoughts. Our friendship has lasted a life-time and we share in both silence and conversation. Picture two introverts not concerned with sharing thoughts aloud … a no-filter conversation.
In that amazing context, she looked me in the eyes to ask, "What is trust?"
That question is still with me.
Trust Is the Conversation
About a week before I sat with my life-long friend, I watched world leaders discuss how to get the world turning properly after we've undone so many things. Each speaker brought a message and each listener could choose whether to trust what he or she said. Trust, candor, and truth were common themes.
Trust has become the conversation. We talk about it with family, friends, business partners, clients, and journalists … online and offline. Seems reasonable that world leaders might talk about it too.
We're defining it, outlining it, and promoting it to each other, but the how to seems less than firmly drawn. As I watch and listen I become more aware of what moves me to trust and what undermines that.
What Trust Is Not
I've never been one to trust or distrust power — the power of print, the power of a microphone, the power of office, the power of your signature on my paycheck. I am surprised and sometimes frightened by those who are.
Trust is a relationship not an office. It's not situational.
Power and position get an opportunity, the same opportunity as anyone, not a better one. Politicians might even get less.
Trust is not good deeds, good looks, or the right t-shirt. Context helps, but doesn't guarantee it. If you come in a context I trust, I listen more easily. If some way you look like me or sound like me, I might offer trust more easily. Still the trappings don't make the real thing. My decision to trust you does.
And trust isn't unilateral or blind. One-way trust is a handing over of power. Blind trust goes against self-preservation.
What Is Trust?
Trust is a decision, a commitment, a pact and a bond that builds and connects. Trust is shared values. Trust empowers by the questions it removes.
Trust is brave and vulnerable. Trust is not sparing my feelings. Trust is the hard truth spoken gently.
Trust is knowing and believing, giving and receiving without hesitation. Trust is not wondering whether what I say is true, whether I will follow through, whether my thoughts and feelings will change when I'm talking to someone other. Trust is knowing you are safely invested and protected.
We can lose it before we have it or find where we least expect it. Trust can be given, but not invented, stolen, or demanded.
Trust is a delicate sculpture we build through relationship, communication, thoughts, and behaviors. Once it's shattered we can't glue it back together. The only replacement is remaking the sculpture. Like wellness, generosity, or kindness, we're most reminded of its value when it's gone.
In the end trust is knowing you are the same when I'm not there … Trust is keeping promises, even the unspoken promises. Not every trust relationship is that of two life-long friends who communicate with or without words. But imagine if that were so.
Trust is a risk, venture capital. It's a gamble with a friend, a lover, or a business. Trust is us leading and leaning on each other when the outcome isn't clear.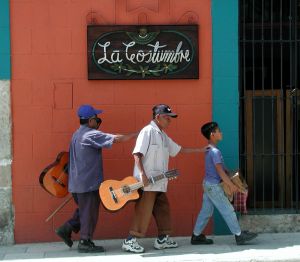 When I don't ask, when I'm not present, when I don't even know that your actions might have been different,
when the reality is consistently …
I bet on you and I won.
trust is.
What is trust … to you?
–ME "Liz" Strauss