When My Mom Died
Please know that no one asked me to write this blog post.
This story is mine and no one could buy it … not even my son, a client, and a friend who saved my life.

I always thought it was very cool that I was the same age when I had my son as my mother was when she had me. That meant the whole time he was growing up I could look at him and look me and think "Oh, so when I was his age this how old my mom was." It gave me a new kind of perspective on my life and hers.
Maybe that was more important to me because we never had that close mother-daughter thing, though I think we both tried. I was never quite sure I belonged. She could never quite connect to my dots.
I had followed a girl baby who had lived nine days before she died. The longer I live, the longer I try to understand what that loss must have been, the more I realize it would have to be inside our relationship — how could it not?
As much as I'm like my father, anyone who knew my mother would say I am her too. Yet, all through my teens and twenties I went out of my way to deny any similarity. She kind of did too. Whenever anyone would remark on how much my face is hers, she would say I look like my father.
So, because my mom smoked BOTH filterless and menthol cigarettes — she kept a pack of each in three strategic places: in her purse, on the kitchen table, and by her place in the living room — I made it a point never to go near a cigarette.
Then when I was 25, I was living with a keyboard player in a rock band — which meant whole weekends in smoke-filled bars with smokers. We often become what we look at most. I became a weekend smoker.
Ironically, a few months later my mom was diagnosed with oat cell carcinoma — the fastest growing cancer they said. It started in her lungs and moved up to her brain. There was no point in her giving up her cigarettes.
The first week that I visited her in the hospital, she kept telling me to go back to work. My boss said stay with her.
The second week, she started ordering foods I like from the hospital menus so that she could share.
The third week, we started telling real stories about ourselves.
One afternoon she said …
You know, you were the best thing that ever happened to me. I went into the hospital to have one baby and three years later I came home with you. You saved my life. I love you.
That short speech recast the entire story of my life.
It was also the first time, I heard her say, "I love you."
We had that conversation and others like it over a cigarette. I was 26 when she died … the same age my son is now.
Who Saved My Life
My son doesn't smoke, but until 3 weeks ago I still did. And for a while I've been thinking that …
If history repeats itself this could be the last year my son would see me alive.
… I wondered whether my son was thinking that too.
Then a few weeks after my son's 26th birthday, he and I were having a conversation with Angel Djambazov at SOBCon NW. We talked late into the night about everything from movie scenes to chocolate to Dungeons & Dragons. I asked Angel to tell my son about how he met John Cameron — Hollywood executive and younger brother of James Cameron [Avatar, Titanic]. John had hired Angel to work with an impressive team on a product called the SafeCig.
In the course of that conversation, Angel explained the tobacco-less electronics, the delivery of nicotine in water vapor without acetone, carbon monoxide, tar, ash etc, and offered to send me a sample. What flavor would I like? My son and I engaged in the idea of choosing between spicy, sweet, woody, and one other. My son offered his mischievous take on which would most fit my personality and why. The repartee was both fun and affectionate. Angel said, "I'll send you more than one. See if you like it."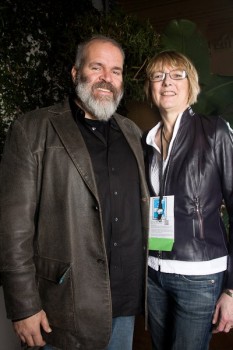 I did.
Then I met John at BlogWorldExpo and immediately took to him as well.
I was already using SafeCig. I had already decided to work with him. But after hearing his stories, I realized his cause is mine. He's client and a friend, but that's not why I'm telling you this story.
I'm telling you because I believe my son, John, and Angel saved my life.
My son is delighted that I have removed those carcinogens from my life.
And every time I think of him, my mother, or the rest of my life, I am too.
If you have a story, please share it.
If you want to lose your tobacco or know someone who does … watch, like, and share John's YouTube conversation about it.
If you that's not you either, you can always go read The Top 10 Ways to Start Living Your Life.
Be irresistible and stay alive.
Liz
**********
If you want to know more of John's story and why he decided to do this …

If you want to know how the device works, this is the one …
************
–ME "Liz" Strauss
Work with Liz on your business!!