about fear . . . a lot.
I know it seems that we've all lost our manners. Our humanity and compassion seems to be scatter shot, when it's there. Some of us seem to care more about plants and animals than the people nearest us.
Have we really all gone bad . . . or are we afraid to admit we're afraid?
For most of us, it's not the most fun time to be living. We see ourselves and our friends in truly precarious positions. Clients go south. Jobs go with them. Healthcare shrivels up and stress makes that an issue.
Do we think it's brave to deny that it's scary? We can't fix a problem, we're pretending isn't there.
It's braver and smarter to admit where we are and act on it. Here's how to do to be brave and smart about what scare us …
From "Oh F#@&" to OK Speed Drill

"Oh F#@&" — Reaction
Identify and acknowledge your feelings.

"I'm scared. I could lose my job. I could lose my home soon."

Go somewhere that you can say it out loud. The act of exhaling while you talk will calm you physically. Close your eyes for a minute or two. Hearing the thought will lessen it's power over you.

"Oh God" — Release
Regain your balance. Keep your eyes closed and breathe deeply through your nose, until you feel the thought let go of it's hold on you.

"Oh Jeez" — Recenter
Keep breathing deeply and if it helps, keep repeating through these phrases as you breathe:
"Oh F#@&" "Oh God" "Oh Jeez" "Oh Well"

"Oh Well" — Refocusing
Now you can start to think about damage control and making the best of the situation. If you find yourself negative again, go back a step or two.

"OK" — Re-engaging
Plan what you need to do and get moving.
—Just Listen: Discover the Secret to Getting Through to Absolutely Anyone
So you're stranded in a situation you never expected. We all are.
We can all push aside the fear and get to how brave we are.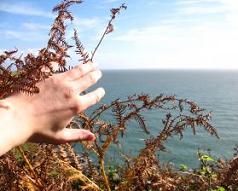 The brave and smart survive because we turn fear into action. We don't allow another option.