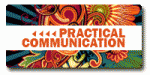 I grew up in a small community and gatherings were a regular thing. The community gathered, through some type of religious affiliation or volunteer organization, and the people came together. There was the planning that occurred up to the event, the talk surrounding who was going, and the conversation about looking forward to seeing so-and-so. People came together to learn, to discuss ideas, to renew old friendships and make new.
People worked hard and long to arrange schedules, offer up what they could, and sometimes make sacrifices to attend these community gatherings. I feel it's all very much the same, as we have been getting ready to attend SOBCon 2009. I appreciate all that everyone has done – I want you to know that.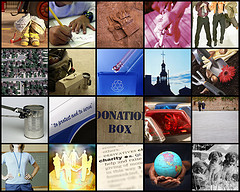 The theme this year of the "Biz School for Bloggers" is the ROI of relationships. I want to learn as much as I can from all the various sessions and bring back new tools to help me move forward. I also am very much looking forward to expanding the relationship part of that equation and adding a new dimension to the relationships I have developed through this blog, Twitter, and the online community in general.
Tomorrow I head to Chicago to meet people from my community. The journey to this point has been a crazy one! I've been ill and felt defeated. I lost hope and motivation. But, right now, I am holding the ticket in my hand and am more than ready to get on that plane!
Because I was so late in actually knowing whether or not I would be attending (seriously – I just found out for SURE yesterday!) I was holding back from announcing my excitement. But tonight it's actually palpable out there on Twitter. I want to thank all of you, and you know who you are, who offered encouragement, support and really kept me going in my quest for a Chicago adventure.
I look forward to meeting you all. I feel like I have known many of you forever. Those in our community who cannot make it – trust me, I understand. Please ask us who will be there for the information and/or things you need.
And please comment about the relationships you've built through this community, through Twitter, and through your other online communities!
from Kathryn Jennex @northernchick