by Guest Writers Suzie Cheel and Des Walsh
We saw this Santa hat on the beach at world famous surfing spot Snapper Rocks. The amusing thought of a portly Santa on a short board was quickly dispelled by realising it was probably just a leftover from a Christmas Day lunch.
Strange as it may seem to those who live where Christmas means cold and maybe snow and ice, in Australia it is the height of summer. On Christmas Day on the beach here it is not unusual to see people having a family picnic, celebrating in swimsuits, sunburn cream and Santa hats.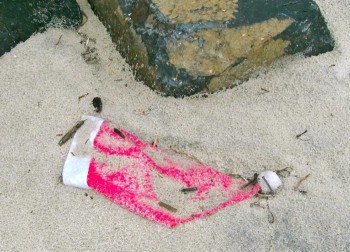 -Suzie and Des