by Guest Writers Suzie Cheel and Des Walsh
This is our third "Sandimal" post, this time with the sand sculpture of a crocodile we have dubbed Cedric.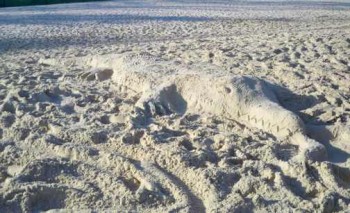 The challenge we had with coming up with a few thoughts prompted by Cedric was that some of them were frankly scary. Although for Cedric it's just about getting dinner on time.
Then we thought that a couple of things that have enabled Cedric's kind to survive through 200 million years is that somewhere along the line they became very observant and very fast to take action at the right time, from apparent total inertia to explosive movement.
So here's the thought. Secrets of survival – be highly observant and move very fast when opportunity knocks. In business it's called "speed to market".