Attracting Minds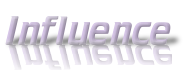 IT BEGAN with a conversation right after someone had handed me a glass of wine. The vibrant Sally Hogshead walked up and began telling me a story that showed me she livesher life. Fascinating is what Sally calls it. Irresistible is my word for for it. Some folks call it influence or attracting like minds.
It's a pair of eyes filled with the curiosity and fearless hear of a beginner that's out test-driving what wisdom and models and learnings already collected to try new ideas on for size. Kind of like when we all were captivating unself-conscious children asking questions like "Would a chair still be a chair if it only had two legs?" And everyone knows it's not a test or meant to make folks crazy.
Appetizing. Appealing. Outright attractive … you pick the word that means "can't keep away" to you.
Makes us good greedy for more.
What brand what business wouldn't want to have and share some of that?
IT CONTINUED the next day with more smiles, more questions, more answers, more ideas. And there it was another single glass of wine. Hers this time.
The excitement grew as more and more people discovered the fascinating, irresistible fun of just being who we are and then tweaking that toward the people who help us thrive … customers, clients, friends, family, sort of everyone who know it's not about taking a test or giving one.
THEN IT BECAME A PLAN when we met on Twitter the next morning and knew that we'd be in a different city, but the same city as each other again. So we set up a lunch meeting to be fascinated by the irresistible ideas again.
And in an email as we were blocking out the time. How much time could we set aside for such kind of thing? Sally would be on her way to the airport — so our meeting would be a risk of the very best kind — an airplane on a schedule versus a chance to have a truly unique, meaningful mind-growing experience.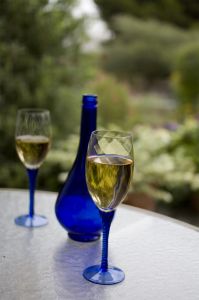 I wrote: You know what kind of risk taker you are and what kind of risk I pose. heh heh
She responded: Yes, I'm a risk-taker but ALSO I'm greedy, so if I get time with you, then I want more more more!
I chimed: We are so the same. You get all of my time you want … for the same reasons.
And then I added: Topic of conversation over a bottle of wine — they have a wonderful Sancerre — and title of a blog post:
How to Be Greedy in a Good Way for Your Brand, Your Business and the People Who Help You Thrive
She said: I'm so In!
Of course, I called ahead to order the wine. There would be two glasses this time.
And here's what we gathered from that meeting …
How to Be Greedy in a Good Way for Your Brand, Your Business and the People Who Help You Thrive
by Sally Hogshead and Liz Strauss over a nice wine
We had left everything to chance. Well, not really, the atmosphere was outstanding; the food was delicious; and the wine was as promised. The conversation was ideation, sharing, and good greedy — filled with everything that is fascinating and irresistible.
Here's a few things that came home with me about how to get good greedy for your brand, your business, and the people who help you thrive over and over again.
Get good greedy about offering the best quality experience you can so that folks can relax and trust that you care about them. When an atmosphere is well cared for, we can't help but feel that we're cared about too.
Get good greedy about trusting yourself and trusting that good intentions will win. Trust telegraphs itself as confidence and safety. Fear or insecurity have a hard time putting up barriers to communication when true trust is in the room.
Get good greedy about anticipating the company of smart people whenever you you get to meet one or two or two million of them. Anticipation heightens an experience and prepares us to take it all in. Smart people recognize the smart in you.
Get good greedy about making space for great ideas and have rituals for celebrating the heroes who bring them to you. Great ideas expand into more great ideas, but ironically they get simpler the more space you give them to breathe.
Get good greedy about gathering up curiosity and asking questions. Explore the mysteries of why we do what we do by talking about them … don't just measure behaviors or deep down-inside you'll be in the shallow end of the pool. Meaning inspires and moves people to action.
Get good greedy about telling your stories over and over again and inviting other people to do that too. Hearing a story gives us something to capture, cherish, and share. It helps us belong and feel part of a common history. Oral histories, parables, fairy tales, fables, stories are how we take ideas out of our heads and learn from them. Let us learn what it's like to be you. Powerful relationships happen when stories are shared. .
Get good greedy about the urgency of your story and tell how much you rely on the folks who believe in you. When we're greedy generous about sharing our vision, our goals, and our plans, people share theirs too. Passion is urgent even when the goal is long-term.
Get good greedy about finding ways to be your highest standards and raise up folks who share those standards with you. Live what you want your customers to value. That will attract people who want to invest their loyalty in you.
Get good greedy about playing and enjoying every minute of what you do. Don't seek the hard road when the playful road will invite people to join you. People who are having fun doing something intelligent and meaningful are fascinating and irresistibly attractive.
Get good greedy about playing and enjoying every minute of what you do. People who are having fun doing something intelligent and meaningful are fascinating and irresistibly attractive.
And don't forget the power of the simple invitation, reminder, excuse to reach out to a customer, a client, a friend to say "thank you."
What ways of being good greedy are part of what you do to take care of the people who help build your business for you?
–ME "Liz" Strauss
Work with Liz on your business!!
I'm a proud affiliate of