Strategy Is More Than Meets the Eye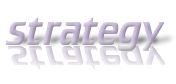 When I was small I liked to hold up my thumb and index finger to frame a tall building in the horizon to make it seem as if the building was smaller than my hand. Today I took picture of the face of my full-sized keyboard that makes it appear as if all of the keys fit into less than a 2-inch high span.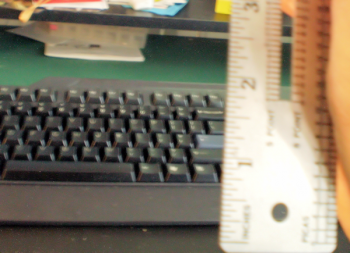 We know it isn't true, but our eyes want to believe it. Humans do that kind of thing a lot. Our senses and our instincts sometimes lead us down a shaky path. They tell us that the Earth is flat; that stars are tiny; and that when we are threatened we should fight or run.
It's all perspective and assumptions.
How Your Instincts Will Blow It for You, if You Don't STOP!
We have a conflict in a meeting, get a nasty comment on Twitter or some writes a critical blog post about us and instinct kicks in. Our hearts start pumping and our minds begin to form a defense. It's the "flight or fight" instinct and it will blow it for us, if we don't watch out.
Few things in our work or social lives need the protection from deadly consequence of the fight or flight instinct. We're more rational now. Yet the reptile part of our brains still emits the adrenalin that makes us want to respond more quickly than our thinking. We're ready to put out fires, but the best firefighters focus on the results.
If we respond while we're still focused on the event, our perspective and assumptions are like the pictures of the building and keyboard — out of proportion to reality. We lose sight of other points of view and possibilities. Other people become tiny enough to squash. It's easy to snap, crack, bend, or break something or ourselves, only to find out later that we didn't have the whole plot.
Hard as it might be to STOP and walk it off, a little time and distance from the "event" usually brings a clearer, calmer and more appropriate response.
Think about every possible reason, ludicrous and crazy that might have caused the event.
Think of how hard it might be to explain your fury to a stranger 10 years from now.
Realize the power you give when you take on the defense.
Decide how the person you want to be would rise to a response.
Think of the impact of your response on the people around you. If you respond on the Internet, think how you'll see that response 1, 2, or 10 years from now when you see your words again.
You might question the behavior. You might ignore it. You might express your thoughts and future expectations. Or you might end a relationships because you've found out that your values don't match up. It's unlikely that you'll instinctively throw water on a grease fire and make things worse.
Strategy is not automatic. Strategy is doing what works.
How do you keep your instincts from blowing for you?
–ME "Liz" Strauss
Work with Liz on your business!!
I'm a proud affiliate of