INDEPENDENCE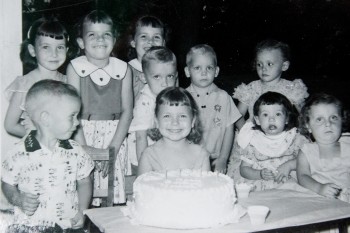 Yes that's me.
My birthday is July 3. The country's birthday is July 4. I have a cousin who's 361 days younger than me.
Those three facts added up to personal birthday celebrations that were often combined and moved around because of the holiday and the idea that one party — usually a picnic — meant less disruption for everyone.
As I got older, I reached adult birthday status much earlier than my much older brothers — whose birthdays fell on days that had no competition with other events. They got their private parties well through high school. My birthday more quickly became a piece of another event rather than my own day. We'd go see fireworks or a parade to celebrate, but those events were bigger than my birthday.
4 Steps to Declare Your Independence
The fact that I was born on the Eve of Independence Day was never lost on me. I was already saying "My birthday is the day before 4th of July." when I was kindergarten. My birthday couldn't compete. I was never at the center of my birthday. Being a painfully shy child, I have to think that worked for me.
But there comes a time in any life that we have to claim our own independence. We have to learn how to make ourselves the "center of our own life's plan," or we'll end up spending the time of our life without actually living it. Here are 4 steps to declare your independence right now.
Decide who you are. At first it seems natural to let the people around us define us. Our family teaches us how to be social. Our teachers and peer groups tell us what they see. The universe is larger than the thoughts and images those groups put in our minds. Our potential is too. Don't rely on the observations of the world to tell you who you are. They haven't lived your life. The world can't get together to take a vote on who you are. Choose your own best true story. Decide and show them instead.
Be that person now. Don't try to be that person. Don't work toward some future date when you'll know you are. None of us have enough future to waste on getting there. You know what you value. You know who you admire. Define yourself with those and be what you've defined immediately.
Surround yourself with people who recognize you. Use your values to choose the people you trust. Shared values reinforce themselves. Time is unrenewable. Spend your time with people who make you feel proud to be who you are. You'll know them because you'll never have to focus on what you want or need. Being with people who see, hear, and understand us, frees us from having to highlight, underscore, or prove who we are. It move us away from living through self-consciousness, self-centeredness, and a conflict of selfishness with selflessness to consciousness, centeredness, and a balanced view of ourselves.
Own the good things about you. Influence yourself. Get to know and value what others see and value in you. That's how you'll grow what's good in you naturally. You can't share or give what you don't truly own.
Somehow we have it backwards. We live as if at the end of our life, we'll know …

who we are.
what we'll do.
where we will end up.

Decide those things first. — The Problem Isn't Not Knowing What You Want to Do …
Before I found my own independence, sharing my day always felt a bit disappointing. Hearing folks say, "enjoy YOUR day," didn't resonate with me. Yet once I decided who I am, began to live that, focused on people who truly see me, and learned from them what I offer, sharing my day — any day, any amount of time — became as easy as breathing. That's how I learned to live the moments of my life.
Once I declared my independence, I learned how irresistible the people in my life truly are.
Have you declared your independence?
Be irresistible.
–ME "Liz" Strauss
Related: Top 10 Ways to Start Living Your Life