By Dorien Morin-van Dam
As bloggers, business owners, social media managers we know it's just not OK to only share your own content.
I personally try to adhere to the 80%-20% rule for myself and my social media clientele, meaning 80% of the time I share other people's content vs. 20% of the time, I share mine or the content of my clients. And on certain platforms, it quickly turns into 90%-10%.
Sometimes, however, it's hard to find good content to share across your platforms, and it's easy to get discouraged. Twitter has always been my back up plan and I'd like to share three ways I use Twitter to curate content to share.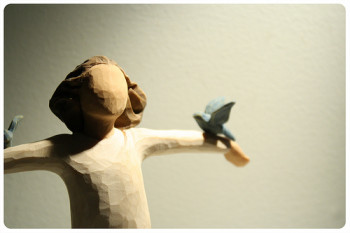 3 Twitter Features To Curate New Content With Right Now!
1. Twitter Lists
Use your own lists or lists others have created. Here are the sequences I use to curate content Twitter lists.
a) From my own lists: I go to a list and click on 'Tweets'. For example, I might go to a list called 'Steamfeed Authors'. I know that every single author on that list talks about social media.
First, I might scan to see if I can find links to the same blog posts in my feed. If I do, I will go check it out. Usually, when multiple people Tweet the same content, it's relevant to me as well.
Second, I look for patterns and trending topics. They are usually fairly easy to spot. It could be a new feature on a platform, or breaking news. I will RT if I spot a pattern.
Last, if I can not find anything right away in the feed of those authors, I can easily identify just one author by clicking on their name and then find their own latest blog post.
b) From others' lists: To find new lists, I will find those who influence me (or my client) on Twitter and check out their Twitter lists. If it looks to be a great list, I will subscribe (that means that next time I will not have to go find it; it will now be shown underneath my own lists!). Then I might follow some of the people on this new list and take the steps outlined above.
2. Twitter Search
You can search anything and everything on Twitter. Just drop a topic in the Twitter search bar and go!
You can also use a hashtag in front of keywords. If that's not enough, try advanced search on Twitter. Read more on how to search and what to search in these articles. Once I find something that I know my audience will love, I use the RT option, or I might go the article itself and share it on a different platform.
3. Trending Topics
Have you used it yet? In case you didn't know, Twitter Trends are tailored just for you! Trends offer a unique way to get closer to what you care about. They are tailored for you based on your location and who you follow. I also noticed that what's trending for me is different on my desktop vs. my iPhone, and that has to do with my location. So when in a content slump, check out trending on 'Twitter' and join the on-going conversations!
Now that you know more about Twitter and how to use it for content curation, I hope your content slump is over and you will start sharing awesome content once more!
Author's Bio: Dorien Morin-van Dam is owner and social media marketer at More In Media, a social media consultancy in Myrtle Beach, South Carolina. Dorien provides social media consulting, management, training and education; she is passionate about teaching social media to small business owners. She services clients all over the USA and has worked in many different industries as well as with several NPO's. In her spare time, Dorien manages four kids, three dogs and a husband. She runs marathons and loves to bake, travel and read.
Photo Credit: Mira Pangkey via Compfight cc