by
Rosemary O'Neill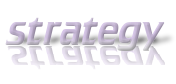 Focus on the Path Ahead
The Summer Olympics are coming up, and I for one will be perched in front of my TV and iPhone app (yes, there's an app for that) watching the proceedings.
I draw inspiration and courage from these athletes who dedicate their entire lives to achieving greatness in their event. There are so many lessons to take away, but one seems to jump out.
Have you ever noticed that the runners, swimmers, and other races NEVER look behind them during the race?
They focus their entire attention. Their entire being. Everything is focused on the path ahead, the swim lane ahead. The world may be on its feet screaming "he's coming up behind you" and the sprinter is in a zone of silence.
Let your competition focus on you
BigStock:
Business Competition
The next time you're tempted to spend time worrying about the competition, think like an Olympic swimmer. Stretch, jump, and swim like hell toward the other side.
Let them worry about you.
Thank you, Rosemary!
You're irresistible!
ME "Liz" Strauss