It's Only Started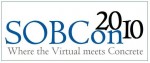 SOBCon2011 (April 28-May1, 2011) has started already started. Wow! Never too soon to get good things going toward the sky.
Sometimes I get things in the wrong order.
So many wonderful comments exchanged on Twitter, so many hugs and handshakes, so many requests for "When do we get to do this again?" that I didn't breathe long enough to say a proper "thank you."
I'm sorry.
I personally thank you.
As I stop to breathe and reflect, the overwhelming feeling is gratitude. Tears fill my eyes thinking of you and the barn we raised this year.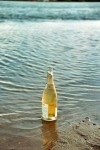 Sending a peaceful beach and bottle of champagne to you.
You see, Terry and I both agree that it's really you — all of you — sponsors, speakers, panelists, and participants who make it all work. It's in the way you believe in us and believe in each other.
It's in your eyes, your smiles, and in the way you refuse to let anyone fail.
Every year, we all find ourselves wondering, just a little stunned at how it all came together to be something bigger than all of us.
We learned, we lead, we inspired each other.
I wasn't the same person before I started connecting with you. I marvel at the ways you all have improved me, bring the best out of me, and choose to see the best in me. … kind of like Terry, Lorelle, and my family.
You've softened my rougher edges to make me a little more like you.
I'm proud of what we've made.
But don't think for a second that it could have been done without you.
You are the heroes.
Congratulations!
And thank you.
Please value you what you've made and make it even more now.
I love you,