Cook Up Something Special With ImageChef!
Great Find: ImageChef
Permalink: http://www.imagechef.com/
Target Audience: Anyone interested in creating graphics quickly!
Content:
ImageChef was founded in 2003, so while it's not a brand new graphics generator, they are always releasing new features and support. You can create custom images without special knowledge or software. Once registered you can email your creations to friends and host your images on the ImageChef site.
And there are so many choices! Below are some examples of graphics I created. This tool is on my favorites list because it is: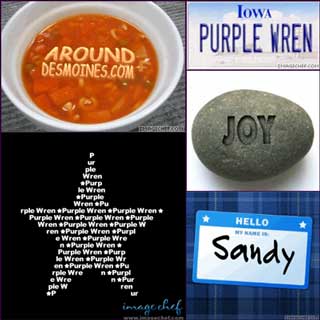 Check it out yourself.
See you next time!
–Sandy, Purple Wren
Related
Sandy's Great Graphic Find: CoolText
Sandy's Great Graphic Find: Pixel Ruler
Great Find: PictureTrail