Is Your Blog Worthy?
If you're a college kid with a weblog, read on.
Would $10,000 to help pay for books, tuition, or other living costs?
$10,000 is given away annually to a college student who blogs.
Great Find: College Scholarships: The Blogging Scholarship
Permalink: http://www.collegescholarships.org/our-scholarships/blogging.htm
Target Audience: US College students who blog
Content:
The founders of College Scholarships.org earn their living as bloggers and they we believe that everyone deserves a shot at a decent education. So naturally, they had to include a blogging scholarship in their offer.
Check the rules and hurry over submission are due October 15-31, 2008. Click the logo to learn more.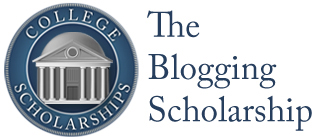 Good luck!
–ME "Liz" Strauss
Work with Liz!!
Related
Great Graphic Find: Wordle
Great Find: PictureTrail
Sandy's Great Graphic Find: CoolText
Sandy's Great Graphic Find: Pixel Ruler