Enneagram Series by Mark McGuinness
I'm pleased to announce that over the next two weeks, we'll be featuring a series — a sneak peek at an upcoming eBook!! — on the Enneagram. The series is written by Mark McGuinness of Wishful Thinking, a specialist coaching and training service for creative businesses such as design studios, ad agencies, film and TV production companies, computer games developers, architect's practices and fashion designers. Mark studied the Enneagram as part of his training as a psychotherapist. He has used it for his own personal development and in his work with individuals, families, and organizations.
The series appear over the next two weeks. The six articles will be posted in the evenings between 5-6pm CDT on the following schedule.
Monday, June 25: What is the Enneagram and Why Should You Care?
Wednesday, June 27: The Heart Types
Thursday, June 28: The Head Types
Monday, July 2: The Body Types
Wednesday, July 4: Using the Enneagram – Working on Yourself
Thursday, July 5: Using the Enneagram – Working with Others
The Enneagram Names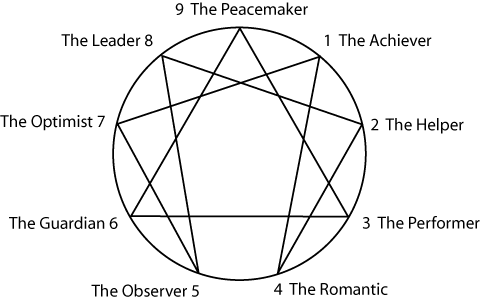 This illustration and the others in the series produced by Sandy Renshaw.
Besure to drop by this week and next to check it out. It's been weeks in the making and worth every minute. Thank you, Mark!
–ME "Liz" Strauss