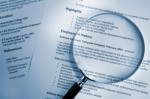 In this day and age when social media is all the rage, it behooves those either out of work and looking for a job or those looking to change out of their present positions to utilize social media on their resumes.
Quite simply, social media can go a long way in helping job seekers further place their foot in the door with a company of their choosing, especially those who grasp this form of communication.
So, how should you go about linking the various aspects of social media and your resume?
Among the ways to do it are:
Make sure you are using Facebook and Twitter for starters – Given that Facebook and Twitter reportedly have around a billion users between the two of them, it only makes sense to be seen and heard on both. Facebook is a great tool to share valuable information with prospective employers by befriending their companies. Once you're able to do that, you can supply them with pertinent links to your work, be it full-time, part-time and/or internships. With Twitter, the same can be true, but be sure to use related hashtags such as #employment, #jobsearch, #careers etc. to network with potential employers or those who may know of an opening you would be qualified for. Sometimes it can be as simple as an alum of your college seeing you on Twitter of Facebook, knowing of a qualified opening, and forwarding you the details;
Put together a video resume – Whether your job will involve technical things like video does not matter, use video to express your qualifications. Unlike the old paper resume or even today's electronic version, adding video to your resume gives a prospective employer the opportunity to see you in a visual light before you might even step inside his or her office for an interview. Yes, you may be a little shy in front of the camera, but this means of reaching out to employers can help get you in the door for an interview. Use sites like YouTube, Facebook and Twitter to name a few to promote the career video in an effort to get it in front of as many eyes possible;
Provide a Web site and/or web host for your resume – Some individuals have taken to making their own professional Web sites as part of their career aspirations. This too is a great way to get your name out there in the electronic world, whether it is your own site or by selecting a professional resume hosting platform;
Link up with your resume – Remember to provide links on your resume to the different social media tools that you use, including Facebook, Twitter and LinkedIn. By doing so, potential employers can visit your URLs and hopefully see some of your creativity at work;
Clean up any social media issues – Those of us who have Twitter, Facebook and other social media tools at our disposal have undoubtedly posted something at one time or another we're not too proud of. Before sending your electronic resume out to countless or even one prospective employer, be sure there are no social media gaffes that can come back to bite you;
Highlight social media experience – Given the fact that more businesses are using social media these days in their operations, any social media experience you bring to the table can be beneficial to you. In the event you currently blog, tweet, share etc. be sure to list your experience, including with working with things like HTML, WordPress, Blogspot, Dreamweaver, Tumblr and more.
The day and age of mailing off a resume or faxing it to a potential employer still exists in some circles, but those circles keep dwindling. Nowadays, having the social wherewithal to promote yourself means you have a much better chance of getting in for an interview than not.
Most importantly, don't be anti-social when it comes to helping yourself attain the job you really want.
Photo credit: mensfitness.com
Dave Thomas, who covers among other items starting a business and workers compensation, writes extensively for Business.com, an online resource destination for businesses of all sizes to research, find, and compare the products and services they need to run their businesses.