A Weekly Series by Teresa Morrow
I'm Teresa Morrow, Founder of Key Business Partners, LLC and I work with authors and writers by managing their online promotion. As part of my job I read a lot of books (and I love to read anyway!). I am here to offer a weekly post about one book author I am working with and one book I have put on my reading list. This week I will be highlighting 'Happy about the Career Alphabet'. and 'Socialnomics' by Eric Qualman. The books will cover topics such as social media (Facebook and Twitter), organization, career building, networking, writing, self development and inspiration.
Happy About the Career Alphabet-An A-Z Primer for Job Seekers of All Ages *800+ Fast & Easy Tweet-Style Tips*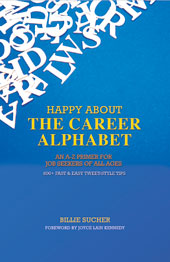 Sucher's newest book allows those searching for the next phase in their professional life to be filled with integrity and class, whether you are a recent college graduate or looking to transition your career to a new industry.
'Happy About the Career Alphabet' provides a quick read in a streamlined format giving those new to the professional world to even those seasoned executives with over eight hundred tips on such topics as resume writing, interviewing, job search and personal branding inspired by Sucher's twenty five years of career coaching, consulting and counseling.
About the Author:
Billie Sucher is a nationally-known career transition expert, outplacement consultant, professional résumé writer, speaker, author, poet, and prolific blogger for Career Hub. For over two decades, she has provided professional career management services to organizations and individuals (entry-level to executive-level) throughout the country, doing so with an unwavering commitment to and passion for:
* Career Consulting, Counseling & Coaching
* Professional & Executive Résumé Writing
* Company-sponsored Outplacement & Career Transition Programs (Group/Individual)
* Personal Branding for Competitive Advantage
* Interview Coaching to Win the Offer
* Public Speaking & Seminars on Career Topics
Sucher holds a Master's degree in Counseling from Drake University and numerous industry certifications including International Job and Career Transition Coach, Career Management Alliance Credentialed Career Manager Distinction and William Bridge's Transition Management Certification. Her résumé/cover letter work is featured in twenty-eight national best-selling books. Earlier this year, Billie was named one of the 150+ Experts on Twitter ALL Job Seekers MUST Follow and one of the 50 Personal Branding Consultants Worth Working With.
You can purchase a copy of 'Happy about the Career Alphabet' online at ThinkAha books or at Amazon.
This blog post is part of a virtual book tour done by Key Business Partners and I have received a complimentary copy of 'Happy about the Career Alphabet' by the author.
Socialnomics
Now I would like to highlight a book on my "review" reading list–Socialnomics.
Here is some great information that Eric shared on Amazon about the book:
A fascinating, research-based look at the impact of social media on businesses and consumers around the world, and what's in store for the future
Social Media. You've heard the term, even if you don't use the tools. But just how big has social media become? Social media has officially surpassed pornography as the top activity on the Internet. People would rather give up their e-mail than their social network. It is so powerful that it is causing a macro shift in the way we live and conduct business. Socialnomics charts this shift from the forefront.
Brands can now be strengthened or destroyed by the use of social media. Online networking sites are being used as giant, free focus groups. Advertising is less effective at influencing consumers than the opinions of their peers. If you aren't using social media in your business strategy, you are already behind your competition.
About Eric:
Erik Qualman is Global Vice President of Online Marketing for EF Education, the world's largest private educator. Over his fifteen-year career, Qualman has also helped grow the online marketing and e-business functions of Cadillac, AT&T, Yahoo, EarthLink, and Travelzoo. He is a columnist for the Web site Search Engine Watch and SES Magazine. He has been featured on various national radio, television, and Internet outlets.
*courtesy of Amazon
You can purchase a copy of 'Socialnomics' on Amazon or in Liz's Amazon Store.
I truly hope you will check out these books and please comment and let me know your thoughts on them.