A Weekly Series by Teresa Morrow of Key Business Partners, LLC
I'm Teresa Morrow, Founder of Key Business Partners, LLC and I work with authors & writers to help them with their book promotion and social media marketing. As part of my job I read a lot of books (I love to read anyway!).
This week I will be highlighting two books; one author I am currently working with 'No Such Thing as Small Talk: 7 Keys to Understanding German Business Culture' by Melissa Lamson and one book on the business Amazon list 'The Innovation Playbook' by Nicholas J. Webb.
The books I cover in the Social Media Book List Series will cover a range of topics such as social media, marketing, blogging, business, organization, career building, finance, networking, writing, self development, and inspiration.
'No Such Thing as Small Talk: 7 Keys to Understanding German Business Culture'
by Melissa Lamson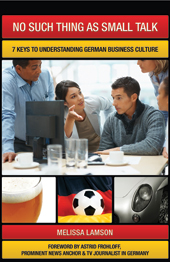 "We see Melissa as a key resource for developing business relationships with German companies who want to establish a presence in Silicon Valley. The information in this book is crucial to helping joint venture partners and investors understand the German business mind. It's a must-read."
Alfredo Coppola, Director, Business Development, U.S. Market Access Center

"As a Chinese-American business leader at one of the largest global IT companies, I can truly attest to Melissa's insight and knowledge about the German mindset and communication styles. I've read
numerous books about cross-cultural communication and this is a must-read for anyone working in a global business environment."
Alice Leong, Global Vice President of Diversity, SAP

You may think, "German business book, what does that have to do with me in the United States?" Our world, especially business is becoming more global every day. Especially with the advancements and the never ending freight train that is social media, understanding how other business cultures work, could be extremely helpful to US businesses and entrepreneurs.
Just check out the Table of Contents on this book:
Chapter 1 – Big Talk, Myths & Status Symbols
Chapter 2 – Key #1: Seriousness Is a Virtue
Chapter 3 – Key #2: Be Reliable
Chapter 4 – Key #3: The Train Comes at 8:52 a.m.
Chapter 5 – Key #4: We Think the Opposite
Chapter 6 – Key #5: Email Builds Relationship
Chapter 7 – Key #6: "I need it yesterday" Doesn't Motivate
Chapter 8 – Key #7: Directness Doesn't Hurt
Chapter 9 – Stuff People Ask (FAQs)
Chapter 10 – Don't Forget to Have Fun
Afterword
Appendices
Resources
Right there, you have some key points to learn about German business culture (and can possibly be something you may wish to use in your business.
About the Book*:
Many business leaders, when they begin to work overseas or interact professionally with teams abroad, are surprised by how much they thought they knew about the other culture, but how little it counts for on the ground. The reality is that communication is multi-dimensional, and simply knowing a foreign language doesn't mean one automatically understands the culture that goes with it. Idiom, psychological factors and cultural nuance all come into play. To grasp a culture, and communicate meaningfully to it, you need familiarity with language, of course, but also with non-verbal communication, customs, perceived values, and concepts of time and space.
Melissa Lamson, with years of experience in creating and nurturing high-performing global teams, understands how "It's not enough to know the language!" In her book, No Such Thing as Small Talk, she focuses on Germany, a major business partner for the United States, and the country in which she has lived and worked for over a decade.
Business leaders today expect to face cultural differences when they do business with, for example, China or Brazil. But with a Western, industrialized country like Germany, one that displays a business etiquette and work ethic similar to the United States, it is easy to overlook the differences simply because so much appears, on the surface, to be the same. The differences are not in your face but subtle. And these small, yet critical, differences are exactly what Melissa's book will help you identify, respect and bridge.
Melissa succinctly presents what she calls seven keys, or principles, to unlocking the German business mind. Her principles, whether they relate to process, punctuality, discipline or email communication, are insightful, personal and compelling. Not only does she clearly lay out the differences, but she also offers a cultural perspective that is rich with personal narrative.
If you plan to be in any way professionally engaged with Germany–whether you wish to participate in trade fairs, carry out negotiations with partners or colleagues, discuss schedules or terms with customers, or even apply for a job in Germany–the appropriate cultural understanding, as this book describes, will create mutual trust and will quite likely be the key to your business success.
About Melissa*:
Back in the U.S. after ten years based in Europe, Melissa Lamson is a pioneer in the field of cross-cultural communication and global business development. She has run projects in more than thirty countries, working with Fortune Global 500 companies, governments, nonprofits, SMEs, foreign investors, and C-level executives across all industries.
In 2008, Melissa was nominated as one of 25 top female entrepreneurs in Europe and she was among the first female-owned businesses to receive an award from the German Ministry of Cultural Affairs. Melissa is regularly invited to speak on the topic of global business development and she guest lectures in executive MBA programs in Europe and the United States.
To find out how your company can benefit from Melissa's expertise, visit www.lamsonconsulting.com
You can purchase a copy of 'No Such Thing as Small Talk' online on the publisher site, Happy About or on Amazon. *I did receive a digital copy of this book from the publisher to help in the promotion of the book.
Next, I would like to introduce you to a book on the business book list on Amazon and on my reading list: 'The Innovation Playbook'.
The Innovation Playbook
by Nicholas J Webb
"As the CEO of a multi million dollar corporation that was a start-up, I have worn many hats over the last fifteen years. I found The Innovation Playbook Well worth the money and time to read.
Webb covered many points I had never learned or in some cases, simply forgotten . In these challenging economic times, his "value strata" and "conduits of connectivity" pages hit home for me.
I found it to be a easy read that was well thought out and written.
I recommend it for anyone trying to improve their business or department."
-Robert Mather, Amazon review
About the Book*
A complete roadmap to a revolution in business excellence founded on innovation
Author and successful innovator Nicholas Webb believes we need a revolution in business excellence founded on innovation. In The Innovation Playbook, you will learn why innovations fail, the five rules of customer connectivity, the power of "real open" innovation and customer co-creation, the secret formula for reducing product and market risk, the magic of Future-casting, and so much more.
* Includes an abundance of anecdotes and examples of successful-and unsuccessful-innovation
* Shares the 56 ways in which innovations fail
* Learn the success secrets of "Innovation Superstars"
* Reduce innovation failure and build speed to market
Includes online training a ($150.00 value) that will help you put the theory into practice, The Innovation Playbook will prepare you to get your CIS Certification, as well as to implement a successful innovation culture in corporate life.
About Nicholas*:
Nicholas J. Webb is a successful inventor, entrepreneur, author and management consultant in the field of innovation and customer relationship management. He has served as the CEO of several successful technology firms including Myocure, Inc. a pioneer in refractive ophthalmic surgery. He is the founder of Nupak Medical, LLC a medical product-manufacturing firm. He has also served as a CEO with several other technology- related companies. He is a successful inventor having been awarded over 35 patents from the US Patent and Trademark Office. His technologies range from one of the world's smallest medical implant to industrial and computer technologies. He currently serves as the CEO of Lassen Innovation, providing strategic innovation and management consulting services, and has attained certification as a Certified Management Consultant. His client list represents some of the best companies and research organizations in the world. He is a prolific book author; his most recent books include The Innovation Playbook-a revolution in business excellence and The Digital Media Innovation Playbook-creating a transformative customer experience (Wiley). Nicholas is a frequent speaker and workshop leader at vertical industry conferences as well as innovation, licensing and technology forums around the world. Nick combines his own personal experience of "having been there" with a proven strategy for increasing profits and market share through a combination of leading-edge innovation methods and general business best practices. He lives in Northern California with his wife of twenty years and his four children.
*courtesy of book website and Amazon
You can purchase a copy of 'The Innovation Playbook' on Amazon.
I truly hope you will check out these books and please comment and let me know your thoughts on them.