Listening and Learning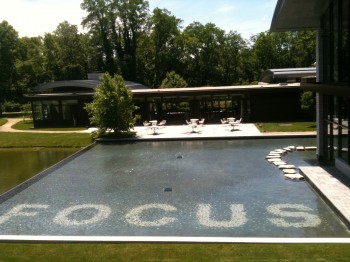 When a good heart thoughtfully shares experience, listening comes easily. I know because last week I had the privilege of hearing Clay Mathile tell the story of his life as an entrepreneur. It was a quiet, late morning conversation that included my friends and colleagues, Barry Moltz and Anita Campbell. We were in a small meeting room at Aileron — the $130 million campus that Clay built to pass his success on to others.
"Entrepreneurs can solve almost all the problems we have in this country, in this world," said Mathile in an interview with CNN Money.
The Iams Vision and Focus
What Clay talked about while we were with him was the vision and the focus that built the Iams Corporation. His vision was clearly stated in a story.
Clay was born in the poorest times of American history, in one of Ohio's poorest cities. From the time he was 6 he wanted to own his own company. He wanted that company to be the best at what it did and to provide jobs. In 1970, when Clay was considering a job for Iams, the little known pet food brand was having difficulties. While thinking about the opportunity, a thirty-something Clay visited a relative at nearby farm shared some time and left a bag of the dog food for the man's farm dog. (Anyone who's seen a farm dog knows that's a dog luxury!) A few weeks later when the Iams decision was pending, Clay returned to the farm to have another conversation. The dog that ran out of the house was so remarkably changed that Clay didn't recognize him! This dog had a beautiful, bright eyes and high energy!
Clay's thought was "This is what people want for the pets they love!" His decision was made. The change in that dog became the vision that turned around a company. Mathile joined Iams in 1970, helped turn it around and took complete ownership of it in 1982. In August of 1999, Clay sold Iams to Proctor and Gamble for $2.3 billion.
The rest of the Iams story includes years of learning.
"It took me 5 years to realize that I was selling a dog food that dogs wouldn't eat in a package that consumers wouldn't buy," Clay said in humility of someone who loves learning. "Then it took me another 5 years to fix the problem."
But throughout our extended conversation, the themes of learning, vision, and focus were inside every answer to every question.
We stayed focused on our mission to be the most recognized provider of dog and cat nutrition.
We realized that dogs and cats were our customers and that our employees needed to be people who loved dogs and cats as much as the people who buy our products.
We trained every person and had dieticians in every region.
Pictures of dogs and cats were everywhere throughout the company — on desks, on walls.
It was clear that everyone shared the same vision … of delivering great pet nutrition to make a difference.
Aileron
Now, Clay has put his money to investing in other people — entrepreneurs who are building their own businesses. The beautiful campus, Aileron, and fabulous team who run it have the vision and the focus to be the ultimate individualized professional management resource for small business owners. I'm paraphrasing how Clay Mathile said it, but his words so reminded me of my dad that I can't help but think I got the meaning …
There is no higher philanthropy than being an entrepreneur, because entrepreneurs create jobs for other people.
The wisdom of one man changed me in one short meeting. I'm grateful for the contribution I was able to make to the Course for Presidents at Aileron.org in June.
I look forward to going back soon.
Clay Mathile is irresistible.
–ME "Liz" Strauss
Work with Liz on your business!!