A Weekly Series by Teresa Morrow
I'm Teresa Morrow, Founder of Key Business Partners, LLC and I work with authors to help manage their online book promotion. As part of my job I read a lot of books (and I love to read anyway!). I am here to offer a weekly post about one book author I am working with and one book I have put on my reading list. This week I will be highlighting '#DIVERSITYtweet' by Deepika Bajaj. and 'Blogging All in One for Dummies' by Susan Gunelius. The books I discuss will cover topics such as social media (Facebook and Twitter), blogging, business, organization, career building, networking, writing, self development and inspiration.
'#DIVERSITYtweet: Embracing the Growing Diversity our World' by Deepika Bajaj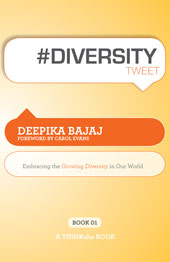 '#DIVERSITYtweet' truly opened my eyes by adding this powerful medium to get our Diversity message out. Deepika truly hit a homerun on this one."
Captain Ken Barrett, Diversity Director, U.S. Navy
People are transcending cultures and geographies and are embracing diversity in their experiences and interactions with others. Most importantly, this book is a thought provoking resource for managers and those who work with a diverse group of people, be it in the workforce, community projects, team building assignments, social gatherings, or business meetings. Organizations need to know how to manage diversity to be successful in the future, and in today's competitive age, the flexibility and creativity augmented by diversity is crucial for success.
By the end of 2010, Twitter will have roughly 18 million registered users. What does this have to do with diversity and inclusion? The momentum has begun. The content is being developed in 140 characters; and identities are being created, new interpretations of diversity are being developed – with it we are observing new breakthroughs and breakdowns for Diversity. There is a paradigm shift – Diversity is the NEW NORMAL.
The book intends to create a bridge between a fresh and growing medium of expression and diversity and inclusion efforts. The message of diversity now transcends into thoughtful TWEETS and empowers the individual, an organization and its workforce. The big question is – Are you open to capitalizing on this momentum?
Here are a few tweets from '#DIVERSITYtweet' I would like to share with you:
#1 Diversity in nature makes a case for respecting diversity in humanity.
#12 It is not the strongest of the species, nor the most intelligent, but the most responsive to change that will survive.
#24 Diversity cherishes mutually beneficial relationships to serve the increasingly diverse global market.
#37 Diversity's ultimate goal: Preserve our individualism while integrating us with others' lives and perspectives.
#53 Every single person, with his or her own combination of background traits and characteristics, is his or her own unique diversity story.
#72 Whatever your ethnicity is, it is not the external beauty that counts. No one will hire you for the shirt you wear. They want your attitude and aptitude.
About the Author:
Deepika Bajaj is the Senior Director at Working Mother Media, a company providing support and community for women to find work life balance and founder of Invincibelle, a company empowering diverse, multigenerational workforce and women to thrive in a multicultural world. Prior to this, Deepika has more than eight years of experience in telecommunications consulting and corporate marketing. She has served on the board of various professional organizations including the National Society of Hispanic MBAs and Women in Intel.
Deepika is currently writing another book. This book (yet to be named) speaks to her experiences of being a global citizen and what is shaping the new voice of diversity. She speaks and consults on diversity, blogs at www.deepikabajaj.com, writes a column on mom blogs at Working Mother Media and writes a column on social media for Active Garage. She is in the process to launch a new blog Diverseconomy.com. You can follow her on http://twitter.com/invincibelle.
Deepika holds a degree in Engineering from Bangalore University, India and has an MBA in marketing from Fordham University, New York. She is an honorary member of Phi Kappa Phi and Beta Gamma Sigma. She loves kickboxing, reading, music, and painting. Currently, she lives in California.
You can purchase a copy of '#DIVERSITYtweet' online at ThinkAha Books or at Amazon
This blog post is part of a virtual book tour done by Key Business Partners, LLC and I have received a complimentary copy of '#DIVERSITYtweet' by the author.
Blogging All-in-One for Dummies by Susan Gunelius
Now I would like to highlight a book on my "review" reading list–Blogging All in One for Dummies.
Blogging is one of the key elements to having a successful online business presence. Blogging All in One for Dummies offers you a multitude of information to not only get your started but how to maintain and even build your business through your blog.
Here is partial book description on Amazon.com:
Prepare to launch into the blogosphere — here's your ticket!
What do you want to tell the world? Get started today with this guide to creating and solidifying your place in the blogosphere. You'll discover all the strategies and tools you'll need to launch a blog and get noticed.
From selecting a platform and writing your first post to including ads and using Twitter, you'll be piloting a blog in no time!
* What's your niche? — follow guidelines to choose a niche and set your blog up for success
* Build your business — create a business blog marketing plan and choose business bloggers
* Make the right decision — select the best blogging applications and blog hosts to meet your goals
* Extend and enhance your blog — from optimizing your content for search engines to creating blog feeds, get up to speed on the available tools
* Gain a following — discover the secrets of blogging success as you market your blog and build a community
* Show me the money — find out how to earn income by adding blog advertising, publishing sponsored reviews, and selling merchandise
* Enter the world of microblogging — learn how to create your Twitter profile, follow other users, write and publish tweets, and more
Open the book and find:
* Advice on choosing a blog topic
* The rules of the blogosphere
* Tips on selecting the right blogging application
* How to write to attract search engines
* Ways to analyze your blog's performance
* How to find and edit images to spice up your posts
* Guidance on creating a podcast or vlog
* Secrets of making money from your blog
8 books in 1
* Joining the Blogosphere
* Niche Blogging
* Corporate and Business Blogging
* Choosing a Blogging Application
* Blogging Tools
* Promoting and Growing Your Blog
* Making Money from Your Blog
* Microblogging with Twitter
About Susan:
Susan Gunelius is President and CEO of KeySplash Creative, Inc., a full-service marketing communications provider.
Susan is also a published author and active blogger. As a marketing, branding and copywriting expert, Susan writes business nonfiction books through some of the largest and most recognized publishers in the world including Palgrave Macmillan (a division of Macmillan Publishing), Wiley, McGraw Hill and Entrepreneur Press.
Susan's marketing-related articles have appeared on websites such as Entrepreneur.com, MSNBC.com, FoxBusiness.com, WashingtonPost.com, BusinessWeek.com, SmartMoney.com, TheStreet.com, Yahoo! Small Business, Yahoo! Finance, and more. She also writes articles and blogs for a variety of clients, including Cox Communications, Newstex, and About.com (a New York Times company).
With nearly 20 years of marketing, branding and copywriting experience, Susan is a seasoned corporate professional having spent much or her career developing and executing marketing programs for global and national organizations, including divisions of AT&T and HSBC.
*courtesy of Amazon
You can purchase a copy of 'Blogging All-in-One for Dummies' on Amazon
I truly hope you will check out these books and please comment and let me know your thoughts on them.