A Weekly Series by Teresa Morrow of Key Business Partners, LLC
I'm Teresa Morrow, Founder of Key Business Partners, LLC and I work with authors & writers to help them with their book promotion and social media marketing. As part of my job I read a lot of books (I love to read anyway!).
This week I will be highlighting two books; one is with an author I am working with and the other is on my "reading list".
The books I cover in the Social Media Book List Series will cover a range of topics such as social media, product development, marketing, blogging, business, organization, career building, finance, networking, writing, self development, and inspiration.
'How Reliable is your Product: 50 Ways to Improve Product Reliability'
by Mike Silverman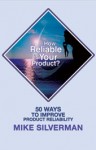 "After reading Mike's '50 Ways to Improve Product Reliability,' I am impressed to state that if most people who want reliable products would execute fifty or sixty percent of what he is espousing, how great it would be for consumers. Instead of going into depth on each topic, Mike stays at a higher level to give a perspective of reliability within the product development lifecycle. If you need more in-depth knowledge on any of the techniques discussed in his book, you can easily contact a consulting firm such as Mike's company, Ops A La Carte®, and get the educational or consulting expertise you need. I have known Mike
for over 15 years, and he is one of the most honest people I know. Feel free to get to know him and you will see what I am talking about. Enjoy his book!"
Harry McLean
Manager of Reliability, Advanced Energy Inc.
Author of HALT, HASS, and HASA Explained: Accelerated Reliability
Techniques
"'50 Ways to Improve Product Reliability' is a great collection of ground-rules that are based upon experience. It describes a number of situations and presents practical examples of what engineers should do to be successful in the area of reliability. In a few examples it also indicates what should not be done in order to avoid problems. The book is organized according to the phases of a project and a maturity matrix is presented as a means to measure progress. Many examples show proactive use of reliability tools for hardware and software. All are accompanied by concise case studies showing how to apply tools and handle common situations. It is a must read for all engineers and managers who are involved with corporate-wide reliability improvement efforts."
James McLinn, CRE, Fellow, ASQ
About the Book*:
Mike has focused on reliability throughout his 25-year career, and has observed the position of reliability in the organization evolve. In this book, he condenses his expertise and experience into a volume of immense practical worth to the engineering and engineering management communities including designers, manufacturing engineers and reliability/quality engineers.
Among other things, Mike discusses how reliability fits, or should fit, within the product design cycle. He provides a high-level overview of reliability techniques available to engineers today. He lucidly discusses the design of experiments and the role of failure management. With case studies and narratives from personal experience, Mike discusses optimal ways to utilize different reliability techniques. He highlights common errors of judgment, missteps and sub-optimal decisions that are often made within organizations on the path to total reliability.
With How Reliable is Your Product? Mike Silverman has delivered what few have done before–a comprehensive yet succinct overview of the field of reliability engineering and testing. Engineers and engineering managers will find much in this book of immediate, practical value.
About Mike*:
Throughout his 25-year career, Mike Silverman has maintained a singular focus on reliability. He is Founder of and Managing Partner at Ops A La Carte, a reliability engineering consultancy that helps customers build end-to-end reliability into their products.
He owns and operates HALT and HASS Labs, a reliability laboratory in Northern California that has now tested over 500 products. A Certified Reliability Engineer with over a dozen technical papers under his belt, Mike is currently President of the Silicon Valley IEEE Reliability Society.
You can purchase a copy of 'How Reliable is your Product' online from the publisher site or on Amazon. *this information came from the author's website.
Next, I would like to introduce you to another book on the business book list on Amazon and on my reading list: ".
42 Rules of Product Management
by Greg Cohen and Brian Lawley
This is very valuable for anyone involved with the process of taking products to market. With their extensive experience and contacts, Greg and Brian have gleaned insightful jewels from thought leaders in the product management field. The format is refreshing because you get a fresh perspective on each page since each author has to get their most important observations into two pages. It makes for great reading and, as with one of the other reviewers, I found myself finishing the whole book in one sitting and really enjoyed it.
Gary Parker – Amazon reviewer
Excellent chance to quickly gain great insights into the fine art of product management. Practical, useful topics. I'm proud to have been asked to contribute a chapter and be a part of this very timely book. This is information you can use today to build better products.
J. Cook – Amazon Reviewer
This is a great book for both experienced and new product managers as well as those in closely related responsibilities such as product marketing.
About the Book*
Packed with pearls of product management wisdom, this book has something for everyone. Best of all, it was written with the busy product manager in mind. Each rule is kept to two pages and designed to stand-on its own. They can be read in any order. In less than five minutes a day, you can learn from forty of the best product managers in the world.
'42 Rules of Product Management' is a collection of product management wisdom from forty experts from around the world. With over five hundred years of combined hands-on product management and product marketing experience, the authors each shares one rule that they think is critical to know to succeed in product management. Whether you are a seasoned and experienced product manager or are just starting out, '42 Rules of Product Management' will help you lead with greater effectiveness and influence.
About Greg and Brian*:
Brian Lawley is the CEO and founder of the 280 Group. During his twenty five year career in Product Management and Product Marketing he has shipped more than fifty successful products. He is the former President of the Silicon Valley Product Management Association, won the 2008 AIPMM award for Excellence in Thought Leadership for Product Management and is the author of the best-selling books 'Expert Product Management' and 'The Phenomenal Product Manager'. He is a Certified Product Manager and Certified Product Marketing Manager and has been featured on CNBC's World Business Review and the Silicon Valley Business Report and writes articles for a variety of publications including the Product Management 2.0 newsletter and Blog.
Greg Cohen is a Senior Principal Consultant with the 280 Group and a 15 year Product Management veteran with extensive experience and knowledge of Agile development, a Certified Scrum Master, and former President of the Silicon Valley Product Management Association. He has worked and consulted to venture start-ups and large companies alike and has trained product managers throughout the world on Agile development, road mapping, feature prioritization, product lifecycle process, and product management assessment. Greg is the author of the book 'Agile Excellence for Product Managers' and a speaker and frequent commentator on product management issues.
*courtesy of book website and Amazon
You can purchase a copy of '42 Rules of Product Management' at Amazon.
So how do you check your product reliability in your business?