Image Separation!

It took four hours and a few minutes.
After that I watched 8 thirty-gallon garbage sacks ride away in a car never to return again. They were from a pile called "Donations."
The four hours and few minutes weren't at all what I expected. I had spent them with a lovely, professional wardrobe consultant from the image studios. Her job was to help me sort through what parts of my wardrobe presented me and represented me according to these criteria:
colors that enhances with my skin tones
fit that works with the rest of me
style that reflects who I am (to a personality baseline we've defined.)
Sounds tame and simple enough, doesn't it? All head. No worries.
I was clueless.
Comfort Zone Shock!
Sunday morning I had two closets of well-behaved clothing — a fine collection I'd amassed in years of coming, going, working, growing. By Sunday night, I had this left hanging lonely …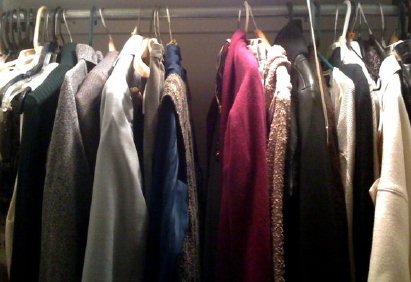 .. and another thirty-gallon garbage sack filled with clothing needing alterations.
Folks on Twitter said it should be freeing … but it wasn't.
It's still not.
It's interesting.
It's confusing.
It's enlightening.
It's scary.
It's not freeing.
It's uncomfortable.
It's a little hard not to think empty.
When I sat with Kali that first day, she asked, "Are you ready for this?"
I said, "I've been thinking about this for 14 months."
She asked it again in another more profound way.
I'm now understanding what she meant and why she asked it.
I've been hit smack dab in the face with "Who are you really?"
Old habits seem to stay with us longer than we need them.
Old thoughts that once protected fence us in.
Old stories and old worries keep us from moving.
Old friends and old ideas can block paths to new ones.
Being too safe can be risky.
Knowing too much can get in the way of learning.
Draw a circle around who you are and your potential will walk the line.
I know for certain — I had to throw away the old jeans to understand why I needed new ones.
I'm wondering if I'm not the only one.
Have you outgrown your comfort zone?
Is it time to find a new one?
–ME "Liz" Strauss
Work with Liz!!