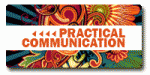 Do you suffer from Social Media fatigue (SMF?)
Unless you're aware of your goals and understand why you're using the many social platforms you may be involved in, it's easy to get caught up in the sharing of links, music and personal tidbits. Everyone has had an hour fly by on Twitter when they've just meant to pop in for a few minutes right? Was there anything specific of value that you found during that time or did you just get caught up in the flurry? Blasting about in social media can take a lot out of you.
If you spend time in the stream on Twitter,  Face Book, Friendfeed  (or on any of the myriad of social platforms ) you form relationships with people. These relationships may be based on business interests or friendships or both. Last week, a close friend and I both noticed a friend was in trouble. His tweets tweets were sporadic and talked of being in ill health. We checked in. Our interaction had brought us beyond our keyboards into a real sense of human empathy. When you see someone tweet about a bad day, a mis-hap, or a loss do you check in – DM a little message? visit their blog and leave an encouraging comment?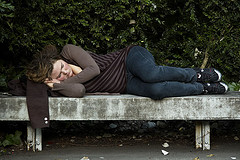 Recently, I read along as Seth Simonds held a discussion on Twitter about how many users felt like they could freely admit to having a bad day in a tweet. Then, without warning, he asked everybody to "tweet" ME with a bowl of curried lentils. I love curried lentils! My screen was suddenly filled with tweets from strangers "giving" me a hot bowl of lentils. It's random and silly, right? Then why did it put such a bright spot in my day? Because it reflected that brightness of empathy and community that brings me back into social media time after time.
The next time you sit down for "just five minutes" in social media, make a point to lift up another person. You don't need to attempt profound conversations on deep subjects at every turn. Just try to stay open to the signals we all give when discouragement, loneliness, and fatigue set in.
Only you can prevent SMF! 😉
Â
from: Kathryn Jennex @northernchick
photo: Vito'