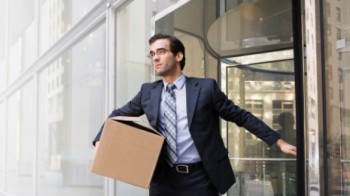 Bosses have many hats to wear, at least that is the case in numerous offices these days.
Given that many companies have slimmed down their employee rosters in recent years, it is not uncommon for those running companies (especially smaller businesses) to find themselves doing some tasks that were typically handled by their HR person over time.
In some instances, bosses are having to say goodbye to employees for one reason or another. One of those reasons is simply issuing a pink slip because the man or woman did not live up to the expectations set for them when they were hired.
While letting someone go is oftentimes difficult, it can very well be justified in certain cases. Even though it can be a hard decision for a boss to make, the end result is typically harder on the employee, he or she now finding themselves out of work.
For those employees that may be walking a tightrope at work, there are some telltale signs that their jobs are on the line. Whether you are in your very first job or a veteran of the employment world, take note of some warning shots that should grab your attention.
They include:

The Obvious
In a bad state of mind
If you have been coming to work under the influence of drugs or alcohol, if you've been stealing (not just money but supplies or other things at work), or if you've been skipping work, getting fired would probably be no surprise.
Some actions are simply inappropriate at work and are good reason to be let go. You know if you've done these things and chances are so do your employers.
The Not So Obvious
Taking too much time off?
Maybe you're not, in so many words, skipping work, but you're spending a sizable amount of time out of the office.
Do you take every other Friday as a personal day or roll in late every Monday? Do you always have an excuse to miss a meeting or call?
Sure, things come up in life, but if something big comes up where you need more time, you need to discuss with your managers. If you notoriously have taken time off for no good reason, or without prior approval, that may be the reason you just got fired.
Using work time inappropriately or wastefully and/or disrupting others
Maybe you did always come to work, but how did you use your time?
Did you surf the Internet, updating your FB status and checking your fantasy football team instead of getting necessary work done? Did you chit chat with fellow workers more often than discussing relevant work topics? Did you consistently keep others from getting their work done either by distraction or other poor conduct?
Lastly, did you make some online comments about a co-worker, perhaps your boss? Even though sites such as Reputation.com and others can help limit hazardous online profiles and comments, you need to be smart from day one about what you say on the Internet regarding your job, particularly as it relates to your online reputation management.
All of these could get you fired, as you are there to be productive and let others be productive, too. If you want social time, go out for happy hour after work.
Insubordination
So maybe you never really mouthed off to your manager, but did you always do what he or she asked of you?
If you didn't follow up on your responsibilities and expectations, that's insubordination and a pretty good reason for getting fired, especially if your managers have ever had to speak to you about it before.
Lying on your résumé
Did you fib a bit on your résumé thinking it's fine, everyone does? It's not really fine, and if you did, you are probably getting fired for that.
Just because you got the job doesn't mean that your résumé is null and void. Your employers have expectations of you from that résumé, and if you lied on it, your credibility and trustworthiness are gone; you probably are, too.
What to do?
If you're fired, you're fired.
But you can get a fresh start – get out there and find a new job – then work ethically, diligently and responsibly and keep that job.
Have you ever been fired from a job? If so, what did you take away from the experience?
Photo credit: foxbusiness.com
About the Author: Heather Legg is a writer who covers a variety of topics from careers and family to the business world.