The theme of SOBCon09 is the ROI of Relationships. Relationships with customers, employees, colleagues, coworkers, builders, contractors, developers, and CUSTOMERS — in the form of readers, buyers, clients, and others — are the success of any business.

How do we form the best relationships; bring our best to them; build environments that nurture them; and measure our success?

Join the Comment Box Conference. Ask questions. Discuss answers. Meet people in the comment box. Find out.
Lucretia Pruitt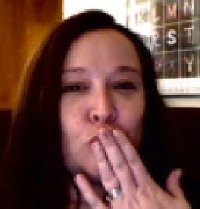 Lucretia Pruitt, also known as GeekMommy has been blogging since she had to hand-code her site's HTML back in 1997. The advent of push-button blogging was a god-send as it allowed her more time to write needing less to publish.
Then in 2007, she got sucked into Twitter… and microblogging entered her world in a big way. Already a student of Social Media tools, she's spent a lot of time analyzing this medium. Catch her hanging around a dozen or more social media sites at any given moment – just look for GeekMommy! She's here to talk about …
Twittering the Way that Works Best for You
Twittering At Volume
Twittering Only To Family & Friends
Twittering As A Company's Face
Twittering As An Individual, When Not Representing Your Company
Twittering To Get A Retweet – Size, Link, Description
Folks on Twitter People look to her for leaderships, best practices, outright wittiness, and a huge heart. Who's got the first question? Let's get talking!
Lucretia Pruitt's Twitter bio says she's a Random Muse – Social Media Strategist, Speaker, ex-CIS Professor, Geek, Mom, Wife, and Insomniac. Talk to her once or talk to anyone who's worked with Lucretia and you'll find out she's even more than that. Lucretia writes about 21st Century motherhood at GeekMommy's WebLife and handles social media as one of the Walmart Moms, among other social media projects.
Follow @GeekMommy at Twitter.