A Weekly Series by Teresa Morrow
I'm Teresa Morrow, Founder of Key Business Partners, LLC and I work with authors to help manage their online book promotion. As part of my job I read a lot of books (and I love to read anyway!). I am here to offer a weekly post about one book author I am working with and one book I have put on my reading list. This week I will be highlighting '#PROJECTMANAGEMENTtweet' by Himanshu Jhamb and Guy Ralfe. and 'The New Community Rules: Marketing on the Social Web' by Tamar Weinberg. The books I discuss will cover such topics as social media, marketing, blogging, business, organization, career building, networking, writing, self development and inspiration.
'#PROJECTMANAGEMENTtweet: 140 Powerful Bite-Sized Insights on managing projects' by Guy Ralfe and Himanshu Jhamb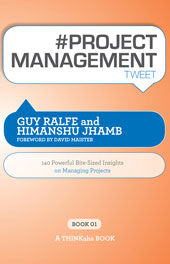 "Jhamb and Ralfe have provided a real treat with this book. Each PM tweet provides a rich mini-lesson on how to succeed as a project manager."
Anthony C. Mersino, author of 'Emotional Intelligence for Project Managers' and President, The Project Advisors Group, Inc.
People are transcending cultures and geographies and are embracing diversity in their experiences and interactions with others. Most importantly, this book is a thought provoking resource for managers and those who work with a diverse group of people, be it in the workforce, community projects, team building assignments, social gatherings, or business meetings. Organizations need to know how to manage diversity to be successful in the future, and in today's competitive age, the flexibility and creativity augmented by diversity is crucial for success.
'#PROJECT MANAGEMENT tweet's' quick-read and accessible format makes sure that you immediately 'get' the authors' thought-provoking and time-tested insights and apply them directly to your own project management situations. Its tweet-sized wisdom keeps the reader's perspective firmly in mind. In concise chapters, the authors cover what your bosses, your team members and your customers would wish you to know about project management. Among the many gems the author share is this takeaway: Every 'unknown' in a project can be guaranteed to introduce a 'known' risk. But, with '#PROJECT MANAGEMENT tweet' near at hand, you can be assured of immediately minimizing your risks and multiplying your successes in project management.
Here are a few tweets from '#PROJECT MANAGEMENT tweet' I would like to share with you:
#6 Testing without test plans is like landing in a new city without a map.
#15 Four key questions on a task:
What is being done?
How is it going to be done?
Who is going to get it done?
When will it be done?
#24 Acknowledge breakdowns, as soon as they appear, to the customer; but more important, to yourself first!
#36 Team members live in their own worlds. It's the Project Manager's responsibility to make the project a
part of their world.
#52 Pay close attention to the "Opportunity Costs" of your commitments to clients.
#77 Always try to recover any delay at the start like it was the last day of the project.
About the Authors:
Guy Ralfe, has worked on global projects for over a decade. At Starr Specialty Coatings, Guy manages project delivery. He is an active contributor on ActiveGarage.com, a web portal he co-founded to address the fundamental concerns of business.
Himanshu Jhamb, thrives on challenges in Software Project Management and has successfully led global teams in industries ranging from Telecommunications to eCommerce. Himanshu is Senior Project Manager for Atypon Systems and co-founder of Active Garage, where he frequently writes about Projects and Project Management.
You can purchase a copy of '#PROJECT MANAGEMENT tweet' online at ThinkAha Books or at Amazon
This blog post is part of a virtual book tour done by Key Business Partners, LLC and I have received a complimentary copy of '#PROJECT MANAGEMENT TWEET' by the authors.
The New Community Rules: Marketing on the Social Web by Tamar Weinberg
Now I would like to highlight a book on my "review" reading list–The New Community Rules: Marketing on the Social Web.
Here is partial book description on Amazon.com:
Written by an expert in social media and viral marketing, this book cuts through the hype and jargon to give you intelligent advice and strategies for positioning your business on the social web, with case studies that show how other companies have used this approach.
The New Community Rules will help you:
* Explore blogging and microblogging, and find out how to use applications such as Twitter to create brand awareness
* Learn the art of conversation marketing, and how social media thrives on honesty and transparency
* Manage and enhance your online reputation through the social web
* Tap into the increasingly influential video and podcasting market
* Discover which tactics work — and which don't — by learning about what other marketers have tried
Many consumers today use the Web as a voice. The New Community Rules demonstrates how you can join the conversation, contribute to the community, and bring people to your product or service.
About Tamar:
Tamar Weinberg is a freelance writer and author of The New Community Rules: Marketing on the Social Web (O'Reilly, July 2009) who specializes in social media consulting and strategy, blogger outreach, reputation management, and search engine marketing (SEO, link building, and Pay Per Click Marketing). She has been involved in the Internet since the early 90s and has dabbled in social online interactions for more than fifteen years. Tamar has been working nearly exclusively with Internet Marketing side since 2006, though she also has experience with web hosting and technical support and can handle complicated WordPress installations and configurations with ease. At the present time, Tamar is the community & marketing manager of Mashable and consults at social media marketing agency M80, in addition to working alongside other companies in her own role as a consultant.
Read more: http://www.techipedia.com/about/#ixzz0t0VnajSg
*courtesy of Amazon
You can purchase a copy of 'The New Community Rules: Marketing on the Social Web' on Amazon.
I truly hope you will check out these books and please comment and let me know your thoughts on them.