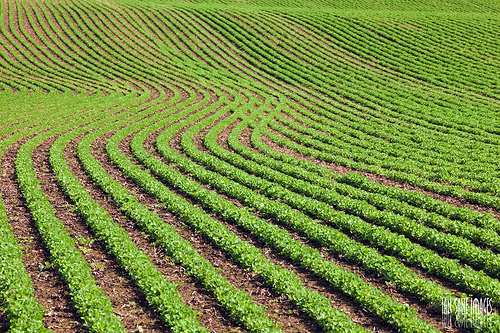 The ambitious farmer, fresh out of agricultural college, wrote up a detailed plan for his farm.
He designated which crops he was going to grow, how he was going to rotate them, what equipment he would need, and how many farm hands he was going to hire.
After gathering all of his resources, he and his farm hands went out and planted acres of crops. It was laborious work, but when he looked out over his acres of fertile land, he was very proud.
Then he and his farm crew got into their shiny pickup trucks and drove away.
The young farmer took continuing education classes in pest control, irrigation, and hydroponics.
He went to some conferences.
He started writing an e-book about farming.
He and his farm hands finally returned to the fields the next year to find acres of weedy, rotting crops, half-eaten by wildlife. No corn. No potatoes. Nothing to harvest at all.
You will get no potatoes from your detailed marketing plan unless you have a system in place between January and December.
The secret to a successful marketing strategy is follow-through. Do it, measure it, adjust, and do it again.
Set Your 2015 Marketing Up For Success
Analytics and measurement – For tactics that support your key strategies, decide how you will measure success. This should be a number or a concrete result. Set up a spreadsheet and track the results from each tactic.
Did you send out a direct mail piece? Track how many people called the phone number or visited the special landing page. Did you create an infographic? How often was it shared? How many people downloaded it? Don't include any activities in your marketing plan that can't be measured in some way.
Decide in advance how often you will look at the numbers. Is it weekly? Monthly? Quarterly? Once you look at the numbers, be prepared to take action based on them.
After-action reports – At the end of every campaign, schedule time to review it. Not just the statistics and analytics, but also budget, resources, how the campaign resonated with customers. What could you have done better, more efficiently? Is it worth doing again? If it failed, why did it fail? Record this information and save it where you can refer back to it in the future (perhaps a Dropbox folder, shared with your team).
Budget updates – Hopefully you included budget projections with your plan. Those projections need to be tied to real-time numbers on a regular basis. The more you do this exercise, the smarter your estimates will be next year. You do have to spend money to make money, but you want to spend it intelligently. If you have your finger on the pulse of your budget routinely, you can reallocate funds if necessary. You will know whether you have the cash to invest in that sponsorship opportunity that pops up in April.
Focus your efforts – Unless you're a Fortune 500 company, you probably can't move forward on five big marketing campaigns at once. When you're writing your marketing plan, don't assume that you're going to do it all in January. In fact, you may not want to plan out your entire year up-front. Consider going quarter by quarter. Plan your first quarter's efforts in detail, and then have possible campaigns outlined and ready to be slotted into the next quarter.
There's a sweet spot between completely unplanned and rigidly scheduled…you want to go there. Give yourself the gift of flexibility, but don't wait until the last minute to prepare the next quarter's actions.
Accountability and reporting – Even in a solo entrepreneurship, you need to have accountability to the business. It's not a waste of time to put your marketing plan down in writing, even if you're the only one reading it. It's not a waste of time to do a weekly review of your numbers and prepare a written summary. When your business grows, you will be happy to have records! In a small shop, grab that extra set of eyeballs for your campaign reviews and budgeting. It doesn't have to be an all-day event, just make sure you're not stuck inside your own head. It's important to relate your marketing activities with the sales person, the customer service person, and the rest of the team. You're all working toward the same corporate strategic goals anyway, right?
So while you're preparing your 2015 marketing plan, don't forget the systems. And we'll be harvesting lots of potatoes next year!