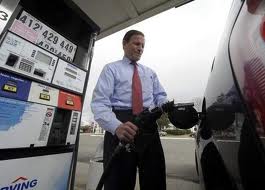 It isn't just the everyday consumer that still gets anxious when they pull up to the gas pump these days.
Since reaching $3.94 a gallon in early April, the national average for a gallon of regular unleaded gas has dropped to $3.75 as of early May, according to the AAA national motorists club. Despite prices heading in the right direction, many motorists are still bleeding at the pumps each time they fill up.
That issue also holds true for many small businesses that rely on one mode of transportation or another to remain in business. Whether it is transporting goods, going out on service calls, or having employees like salespeople meet in person with current and potential clients, a large number of companies are seeking ways to trim their gas expenses.
Businesses That Have to Deliver the Goods Feeling the Pain
Some small business owners most feeling the pinch are those such as florists, eateries, cleaning services and more that have to deliver products and services in order to remain profitable. While it might have cost $100 or so for weekly deliveries only a few months back, that expense has easily increased to double or triple that for many businesses across the country.
If high gas prices seem to be more common than rare, that is because both consumers and businesses have had to deal with them more often the last couple of decades.
It was just as recent as 2008, when the cost for a gallon of regular gas ballooned to a national average of $4.11. Even though the recent AAA report indicates prices have been dropping, the summer driving season is right around the corner, meaning they could just as easily rise as quickly as the summer heat.
If your small business has been feeling the pain of the prices at the pump, there are ways to bring the costs down and still meet the needs of your customers. Practices to think about for your business plans include:
Trimming delivery services for a period of time;
Requiring employees operating company vehicles to not take them home for the remainder of the day once their shift has ended. Installing GPS systems on the vehicles if they do not already have them is a great way to track how far the vehicle has been driven;
Making additional deliveries during a stretch of time in concentrated areas instead of several trips out;
Shopping around where your business is located for the best prices at the pump. A number of Web sites provide weekly and even daily information on which gas stations have the best deals available;
Taking some time to rethink how you do business. Do you really need to make all those deliveries and service calls or can more things be done online in order to cut fuel costs;
Consider providing your customers with deals in return for not having to make deliveries. If you run a floral shop as an example, instead of having to make a large amount of deliveries, provide customers willing to come to the shop to pick up flowers with coupons that they can redeem during an upcoming purchase.
As politicians and the oil companies blame one another for high oil prices, it is the consumer, including the business owner that gets caught in the middle.
Photo credit: app.com
Dave Thomas, who writes on subjects such as office equipment and supplies, writes extensively for San Diego-based Business.com.