by
Deb Bixler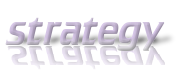 Branding As A Professional
There is a lot of talk about branding. Branding online and off needs to be consistent. That goes without saying!
What about your brand as a professional?
A recent experience drove home to me the importance of my brand as a professional.
I had my business brochures reprinted. An order of a thousand brochures lasts about a year.
When I picked them up and took one out of the box it jumped out at me….
They were folded wrong. A small error of alignment left a white line along the edge of the trifold brochure. The office boy giving me the order could not even see the error when I said that they were folded wrong.
He told me to take a few and then the supervisor would call me with some options. I left feeling like I was being too picky. Over the course of a week or so, I showed the poorly folded brochure to dozens of people.
When I asked "Can you see anything wrong with this brochure?" most would study it with intense scrutiny and then point out something stupid like the color of my shirt or the position of my fingers. After I pointed out the white line, they would say, "That's no big deal."
Only 1:10 even saw the error without me pointing it out.
After a week or so the printing company called with a settlement offer. Take $70 off the order and keep them as is or do a total reprint free. The order was $250. I was really torn as to what to do.
The printing error really bugged me but no one noticed. I decided to change my terminology in getting opinions.
"This brochure has a printing error. Can you see it?"
My hope was that they would look at the bigger picture and not the details. Same thing… only about 1:10 could actually see it! Everyone I told about the money compensation offer said the same thing: "Take the discount and keep them!"
The Artistic Eye Sees More
I realized that anyone who noticed the fold error was either artistic or in a technology-based business that utilizes graphics on a daily basis.
So I took the brochures to school. I teach culinary school. Chefs are artists!
The first half-dozen aspiring young chefs immediately saw the error. Ahhh…. validation, finally!
One young lady said, "If it bothers you, you should definitely get them reprinted!"
An astute student from my menu design class said: "Isn't this what you tell us about branding? You always brand yourself as a professional, why would you even consider keeping them!?"
Brand As A Home Business Professional
I provide training for home business consultants. I teach them how to treat their business like a profession. That is the trademark that I operate under.
No matter how small your business when you apply the strategies used by professionals in corporate jobs you will get the same results working from home.
At culinary school I stress maintaining professionalism in the restaurant kitchen…. I briefly forgot to treat my own brand as a professional.
Professionalism is a brand that is carried through out your business, whether it be brochures or online graphics. Never sacrifice your professionalism for money!
I got the reprint and put the rejects in the recycling barrel!
Thank you, Deb!
I would have made the same choice you did.
— ME "Liz" Strauss