by Rosemary O'Neill
These days, everything around us has a built-in indicator to tell us when something's wrong. My car has been telling me I need "Service A4" for about a month now. Our iPhones have battery life indicators. Even my kids' school lunch account pings me when it's low.
But there's no handy-dandy centralized indicator to tell you when your online business needs maintenance.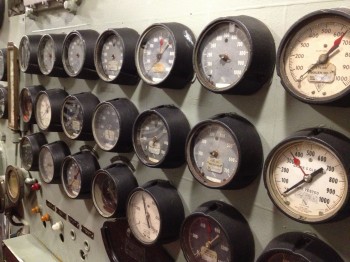 There are so many things to keep an eye on when you're a small business owner or an entrepreneur. Â 
 
Industry developments, customer challenges, payroll, legal requirements, and (if you can squeeze it in) planning for the future, all must be monitored. Toss social media tracking and reputation management in the mix, and you've got a recipe for stress.
Let's set up a manageable system that tracks only the most important indicators. Pull out your business plan and/or marketing and sales plan. What are your key milestones for success? What is your "red line" you can't go below as far as sales pipeline or conversions?
Bearing in mind your goals and critical areas, here are some of the items you might want to add to your weekly checkup. I use simple spreadsheets.
Brand awareness indicators
Set up Google alerts on your company name and your own name, as well as your product name(s).
 
Visit Topsy.com for mentions on the web and on social networks (you can set up alerts or periodically check in). For the spreadsheet, you could track number of mentions over time to see if you're on an upward trend.
 
Another indicator of increasing awareness is branded searches. In your Google Analytics, click Traffic Sources Overview. The keyword list will show you whether people coming to your site are typing in your brand name to get there. You could tally up the number of branded searches each week and track that trend as well.
Marketing and Sales Indicators
Again in your Google Analytics, track the number of new visitors over time. That's a good indicator of increasing interest, and possibly marketing success.
Track true conversions over time. You can set up conversion paths within Google Analytics just by telling Google which action on your site represents a "conversion," for example, subscribing to a newsletter or clicking the "buy" button. Conversions can also be tracked by dividing raw unique visitors by number of sales over a given time frame.
 
If you're using Hootsuite Pro, you can get reports of activity across all of your connected accounts. This is a good way to keep your finger on the pulse of your social networks. Are your Twitter followers increasing? Is your content getting shared? Your dashboard should include some idea of whether your overall network is increasing.
One other statistic to track is the number of new incoming sales inquiries. Most CRM systems make it easy to keep track of new leads, but it can be as simple as tallying the number of new email inquiries from a form on your website. That's the top of your sales pipeline, so you want this number to stay healthy.
Revenue, of course, must be on your dashboard as well. Be detailed enough that you can see which lines of business are doing well and which might be struggling. That might mean breaking out products vs services.
 
Planning for the future
Just as you get periodic checkups from your doctor, you should re-evaluate your plan and dashboard indicators routinely.
Weekly updates on the spreadsheets plus a quarterly plan review will keep you on track and allow time for course correction if necessary.
What are your key indicators for the health of your business?
Thank you, Rosemary!
You're irresistible!
ME "Liz" Strauss