Thanks for Asking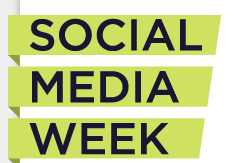 It started with a question, "Liz, are you coming to Toronto for Social Media Week?"
The question led to a conversation and a few introductions and the next thing you know I'm making reservations.
Yes, I'll be there!
As it turns out I'll be there, and there, and there.
Here's where you'll find me.
Monday, February 13 at 1:00 PM – 4:00 PM
Creating Wildfires, Focus like a Sensei, Be Irresistible
Location: MaRS | Event Page
@SeanMoffitt, @SamFiorella and I (@LizStrauss) are coming together for an interactive debate on the myths and realities of Social Media's impact on the business bottom line. We'll be inviting the audience to participate during this rapid fire and highly interactive session.
Tuesday, February 14 at 7:00 PM – 9:00 PM
An Empire Avenue evening with the Irresistible Liz Strauss! #SMW12
Location: The Vault at One King West Toronto, ON M5H 1A1 | Event Page
It's going to be a small group, a cool venue, and an evening of enlightening conversation, cocktails, snacks and fun!! Come meet the engaging Empire Avenue team, including CEO, Duleepa "just call me Dups" Wijayawardhana and me and let us buy you a drink or two. 🙂
Thursday, February 16 at 4:30 PM – 6:00 PM – Networking to follow.
Accelerating Small Business Growth in our Economic Times
Location: BMO Bank of Montreal, (Manulife Centre – 55 Bloor St. West)| Event Page
Sean Stanleigh of the Globe and Mail moderates a panel of social media professionals, which includes , Julie Howlett, Account Director, Global Marketing Solutions at LinkedIn Canada and Chris Eben, Partner at The Working Group.
Then, Ian Portsmouth, editor and associate publisher of PROFIT magazine, moderates a second panel discussion with business owners sharing insights on the issues affecting business growth in Canada. Networking to follow.
And Other Places
Who knows where else I might show up?
So if you're in Toronto next week, come on over to say hello!
Register for an event and let's talk!
See you there!
–ME "Liz" Strauss
Work with Liz on your business!!