It Started with an Invitation to Speak in Davos
Davos, Switzerland, 21 February 2011, II World Forum "Communication on Top" took place in Swiss Davos at the end of last week. Trend-makers and key figures from communications industry participated in the Forum. Among them are top-managers of world-known companies like GALLUP, ENEL, EDELMAN, SPN Ogilvy, DELL, leaders of large-scale political and social projects in various countries, and world-famous "stars" in the area of consultancy and communications.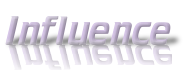 Last year, I received an invitation from the project manager of the annual World Forum "Communication on Top", held in Davos, Switzerland. The content is in the field of Communications, PR, Marketing, Social Media, and Corporate relations: http://www.forumdavos.com
The invitation offered me a keynote session and asked if I would be willing to participate as a nominee for the C4F awards ceremony in the category "Titan of Web 2.0."
Being asked to speak in Davos is quite a heady experience. Switzerland is famous for great minds meeting at important events.
Such as this interview in which:
Garrett Johnston discusses
aritificial intelligence and the singularlity
understanding the reasons people consume what they consume
creative and uncreative consumers.
companies who do well in the crisis
"It's a question of making the choice easier and more accurate for the consumer. It works for everybody and reduces friction." he says.
Who Wouldn't Want to Be at an Event Like that?
Unfortunately Switzerland is also an exclusive ticket to an entrepreneur in the launch phase of a new business. Though I'm usually quick flexible and creative at solving problems in ways that everyone wins, I also had a prior commitment to speak on the other side of the world in Las Vegas during the Davos event.
And my word is my word.
So we agreed that the keynote might wait until next year. Then we'd have proper time to plan for the event. Participation in the nomination moved forward, I met with Helen Brandt of the Davos Top of Communication World Forum Team — It was an early morning interview — 7 time zones apart — on Skype about what being a Titan of the Web might mean.
Here's a bit of that … Liz Unplugged.
a titan – brings images of building things with elaboration and fluency
It's not a titanic labor to raise a blog; it's a titanic responsibility. You write a blog to connect with people. It's conversation.
I love to show companies how an invitation is more exciting than a pitch. I love to teach the fun of negotiating from the same side of the table.
I love showing people how their values attract people who have the same values as they do.
"I love bringing people back to the common sense. There's so much we can do to bring the world back to the community," I said.
I had done all I might do to be ready for the Titan of Web 2.0 nomination. Now what was left was to be online during the presentation.
Enter the Titanic in the Titan
When I got to Las Vegas, I was set and ready. I tuned in before my event to watch an learn from the speakers. All was well. Then came the time for the presentations — 7pm in Switzerland / 10am in LasVegas and the livestream in my hotel crashed.
The rest is history. I wasn't a part of the awards — the skype connection we prepared disappointed us with no service. It was time to go speak on my panel before the wifi came back up.
The panel at the conference in Las Vegas went well. The people were outstanding both on the panel, including that Leadership guy Terry Starbucker, and in the audience. We talked about how social media can change the face of a business and bring customers closer — close enough to build a brand up.
An hour later, when the panel was over, I discovered via Twitter this lovely tweet …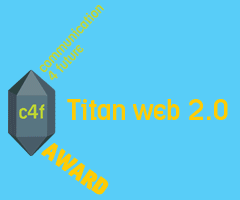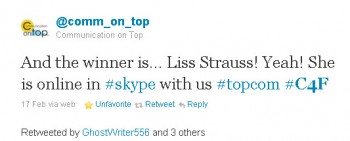 And my partner, Terry, who was the first to say "congratulations," now calls me Liss.
And every life event is worth the worry if you get a great story out of it.
Will I be at Davos next year? You can bet on it. I will be there not only to give that keynote, but to say a proper thank you, share my gratitude for this prestigious recognition
And I'll try to learn some titan speak.
Blushing just a little, and saying thank you to the Davos Forum, to my friends, partners, and readers, — all of you who make everything I do worth every minute I spend doing it.
You're the titans that keep this titan on the web.
Related links for more information about World Forum, "Communication on Top," Davos, Switzerland:
http://forumdavos.com/
http://twitter.com/#!/comm_on_top (hashtag #topcom)
http://www.facebook.com/ForumDavos
http://www.youtube.com/user/forumdavoscom
–ME "Liz" Strauss