Have you ever found yourself staring at the screen, mindlessly sipping coffee, hoping that the caffeine will jump start a creative idea? Perhaps you've fallen victim to "the creativity crisis." Or perhaps you just need a little slap upside the head.
Consider this your friendly nudge (my mom told me slapping isn't nice).
Chris Brogan's Blog Topics
If you'd like a dash of community with your writing prompts, Chris Brogan's blog topics is your place. For $97.00, you'll get 45 weeks of email newsletter updates with 10 or more blog topic ideas, writing advice, and more.
Mindmapping (Biggerplate or MindMeister)
Sometimes what you really need is to write things down and organize your thoughts. I've found that a creative block can happen like a logjam, where you have too many different ideas. Using a mindmap tool can break the logjam by getting some of the ideas out of your brain and into a repository. Both of these tools also offer access to community mindmaps…maybe someone else's mindmap will spark an idea for you!
Unstuck App
If your primary issue is being "blocked" in general, the free Unstuck App comes to the rescue with a step by step action plan for moving forward. It doesn't matter if your block is creative, emotional, work-related, or otherwise, this beautifully designed app will nudge you out of inertia.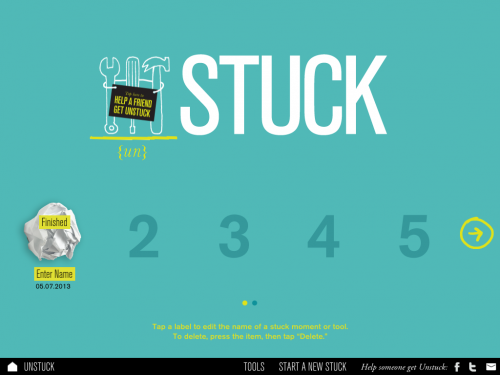 Tour the Louvre Online
Step outside of your routine online, and visit a place that contains the creative juices of generations. Schedule 30 minutes with yourself, and wander around virtually, exploring the museum with no crowds moving you along. Sometimes getting away from your same-old industry blogs will get you thinking in a new direction.
Prompts
This is a very simple creative writing app that does one thing effectively–it offers hundreds of prompts and opening lines to jog your creative brain. Extra goodies are kept very minimal; there is a sharing tool, writing reminders, and habit tracking feature to discover your best days and times to write. If you have trouble staring at a blank page, this one might give you that little nudge you need. It's $3.99 in the iTunes store.
What are your secret weapons for getting out of a creative block?