Todd Hoskins Reviews Tools for Business
Todd Hoskins chooses and uses tools and products that could belong in an entrepreneurial business toolkit. He'll be checking out how useful they are to folks who would be their customers in a form that's consistent and relevant.
Cool Tool Review: Bit.ly
A Review by Todd Hoskins
If you've been cryogenically frozen for the past two years, the discovery of URL shorteners would be confusing. Why are there all these nonsensical domains appearing on Twitter, Facebook, and even in email?
Prompted by the 140 character limit, the early URL shorteners (we're talking 2008) served an important purpose – freeing space for you to get more words and letters into a tweet. You want to share Lady Gaga's controversial Alejandro video, for example, but simply sending the link is not enough. You want to offer your endorsement, commentary, or related questions (and for this video, there are many). Shortening the URL gives you the chance to do this. Otherwise, the link itself will take up half of your tweet characters.
So, thank you SnipURL, urlBorg, Cligs, is.gd, Su.pr, TinyURL, Ow.ly, and all the others for allowing me to add my two cents.
There is also a business utility to URL shortening, and Bit.ly remains the leader. Bit.ly and it's companion service J.mp (which I use) shorten nearly 5 billion links per month. Why are so many people using Bit.ly? First, it has been Twitter's default shortener. But also, Bit.ly offers analytics on your links that can be endlessly fascinating and valuable to your business.
When advising clients on their microblogging efforts I start with two main focal points:
1) Accessibility of your voice (warmth, personality, interactivity, humor)
2) Relevancy of your content
Bit.ly analytics can give you real-time and cumulative feedback on the relevancy of content. Are people sharing what you have shared? Are they clicking on the link? What types of content do your readers find compelling? What conversations take place around these links?
Once you have an account and shorten a URL, either with the Bit.ly sidebar or at their domain (also Tweetdeck has Bit.ly integrated), you can track and manage the links to see when and how often people have clicked through, as well as the ratio of the traffic you are driving compared to the rest of traffic monitored through Bit.ly.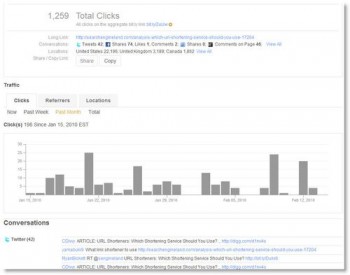 You also get posts and tweets that have used your shortened URL, so you can see who else is distributing the content and in what context. It's a great way to discover influencers and fans. Don't fall into the trap of measuring your online presence based on click-throughs, but it is a fast way to learn and adjust for the content your company is creating or distributing.
One more note . . . I will also use URL shorteners within emails sent to clients. If you send an email to five colleagues, for example, and want to see not only how many people are reading what you have highlighted as important, but how often that email has been forwarded, Bit.ly provides an easy way to see whether the article you recommend is being digested.
Summing Up – Is it worth it?
Enterprise Value: 5/5 – Dashboard and branded short links with Bit.ly Pro
Entrepreneur Value: 4/5 – Improve your content. Inform your voice. Analytics help.
Personal Value: 3/5 – Effective replacement for bookmarking (Like a site? Article? Shorten it and it will be archived.)