The Metaphor Project: Wow! Even More!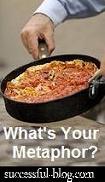 This is the third set and I'm so enjoying reading these metaphors. I always knew that bloggers were teachers at heart. The variety and the depth blows me away with enthusiasm for how well we know the subject.
Thank you for all of the submissions to The "What's Your Blogging Metaphor?" Group Writing Project. Some of you are new to me and I'm so enjoying this introduction to you and your blogs. Some are familiar faces and it's so exciting to get to know a new part of who you are.
Check this new batch out and pass them along to your readers. The more ways we look at blogging the better we'll be able to explain it when we need to.
Let's find some more.
Because this project spread so quickly and not all links are making their way to me, if you've written a metaphor and you're not on the list, please email me a link. If you've already done that before 10pm CDT on June 6, please forgive me and send it again.
Be a Part of the Project
So, what's your blogging metaphor? Join the project. There's still time to be a part – I've extended the list to 10pm Chicago time (GMT-6hrs.) June 11th the Monday I return from NYC. So you have plenty of time to take part. Here's the original post for the background — the whats and the hows.
C'mon tell us. How would you explain blogging to someone who knew nothing about it? What's your blogging metaphor?
–ME "Liz" Strauss
Check out the Work with Liz!! page in the sidebar.