I'm Too Busy for Twitter
Last I worked the social media station for McGraw-Hill Education at the National Conference of Teachers of Mathematics, a gathering of about 9,000 attendees. As it happens this attendee group is math teachers, school superintendents, math tutors, and people who build products for, consult with, and sell products to the education industry. Every administrator, every teacher, every editor, designer, consultant, sales rep, and presenter I spoke with has a huge job — days filled with helping others gain expertise and find knowledge, breaks and evenings filled with planning how to do that more effectively.
Sounds a lot like every client, customer, web publisher, manager, and business person I know.
I bet you know a few people like that too.
And I bet you've heard these words more than once, "I'm too busy for another social network."
Here's how I was able to change that view for over 90% of the folks with whom I spoke in less than 2 Minutes Flat!
How to Get Busy Folks to "Get" Twitter in 2 Minutes Flat!
My purpose for being at the event was to show every version of busy people how Twitter can make their jobs easier, faster, and more meaningful. Naturally, I'd start by asking questions and listening. The conversation would go something like this.
"Are you on Twitter?":
"No. I'm too busy. I don't have a smartphone. I don't need another social network."
"Oh, don't I get that. Time is so important to all of us. By the way, you do this on your computer, whenever you feel like it. There's no obligation to show up. Will you give me two minutes to show you how I think Twitter will make your job easier?"
"Okay I'll listen for two minutes."
"Let's start with your job. What is your role in the world of mathematics?"
Then I'd point to a Twitter screen loaded to a hashtag … in the is case it was #mathchat And say, "let me show you what's happening here."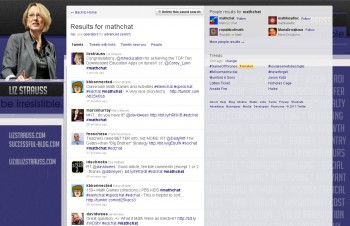 [click to enlarge image.]
I'd go on …
"All day long people who care about math post resources, questions, answers, ideas, insights, best practices and they tag them with this hashtag #mathchat so that other math folks can see them."
I'd fire off a few examples and point to some in the stream, such as
The teacher who asked "Is anyone at a school that's giving students iPads, I'm wondering how that works."
Here's two activities for the classroom.
Here's an article on how a teacher made Calculus the most popular class in the school.
Look at that! There's an event for middle school teachers in your state next month.
Yesterday I saw a tweet from a teacher who was looking for a video on nanotechnology for his students.
And did you see the Tweet right there, where @mheducation is offering their Math Apps for free during this conference? .

When I asked the question on #mathchat, why might a math person want to use Twitter, they said

So you don't feel alone.
To get ideas.
To ask questions and get answers.
To get insights and best practices.
To connect with math people all over the world.
"And don't worry about time. You don't HAVE TO be there. Twitter is like this conference exhibit, the resources are available when you need them. They don't come bother you. You go visit them when you can."
The other things that's really cool is that every week for one hour math people from all over the world meet at the same time under this #mathchat hashtag to talk math in real time — it's like a mini math conference every week online — you can just listen in or talk and make friends who do what you do.
That's when I handed them a sheet with the information from these two blog posts.
Tailoring Twitter: Does Your Twitter Profile Attract the Right People?
and
Tailoring Twitter: Building a Powerful Network that Fits You Perfectly
and some information on how to find a list of the most popular hashtags in their industry.
Now you see how a single hashtag can get right to the deep value of Twitter for almost anyone one.
How can you use this to tailor Twitter — to make it faster, easier and more meaning — for the folks you know?
Be Irresistible!
–ME "Liz" Strauss
Work with Liz on your business!!
Related:
Tailoring Twitter: Does Your Twitter Profile Attract the Right People?
Tailoring Twitter: Building a Powerful Network that Fits You Perfectly
Tailoring Twitter: The ROI of Curating Content on Twitter