The Metaphor Project: What's Your Blogging Metaphor?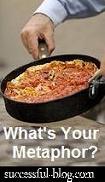 When a nonblogger asks, "What is a blog?' How do you answer? Have you tried using a metaphor? Would you mind sharing yours? A few bloggers have.
The first submissions are in. Like the blogs they come from, each metaphor is a unique representation of the writer. We see blogs almost everywhere. They are a County Fair. They're underwater. They're a line of koalas. Like life, blogging seems to lend itself to metaphorical explanation — maybe more easily than it does to a straightforward definition.
These are the first submissions to The "What's Your Blogging Metaphor?" Group Writing Project. I've discovered some great new blog writers and fun ways to talk about blogs. Just look at the titles! Check them out and pass them along to your readers. The more ways we look at blogging the better we'll be able to explain it when we need to.
Let's find some more.
Because this project spread so quickly and not all links are making their way to me, if you've written a metaphor and you're not on the list, please email me a link. If you've already done that before noon on May 31, please forgive me and send it again. (I had dental surgery yesterday . . .)
Be a Part of the Project
So, what's your blogging metaphor? Join the project. There's still time to be a part – I'll keep adding to this list until June 5th at Midnight Chicago time (GMT-6hrs.) Here's the original post for the background — the whats and the hows.
C'mon tell us. How would you explain blogging to someone who knew nothing about it? What's your blogging metaphor?
–ME "Liz" Strauss
Check out the Work with Liz!! page in the sidebar.