What Teachers and Learners!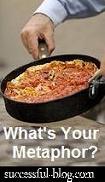 When we know something well we have internalized what it's about. That makes us flexible with our thoughts and our models. It offers us an ability to be fluent when talking about the subject. Our experience and knowledge allows us to teach others how it works.
When a concept or practice is simple, teaching is often an act of simple demonstration. When the concept or practice multi-layered or complex — when it's process and information, people and data — sometimes a translation or a comparison that takes a person from the known to the unknown has a better chance. . . . That's when a great metaphor comes in handy.
Thanks again to Char and Derrick for inspiring this project.
Welcome to the Complete Metaphor Project List!
Thank you all for being a part.
BONUS: 10 Winners
These ten contributors, selected randomly by a man, who paid so little attention that he doesn't know what this contest is about, will receive an autographed copy of Lorelle's book "Blogging Tips — What Bloggers Won't Tell You About Blogging."
If your blog's name is listed below, please email me, using the subject line METAPHOR WINNER and include your email address and postal address. We'll ship the book to you.
Congratulations to the winners!
Everyone won will all 50 metaphors! You drew unforgettable pictures with your words. Thank you, again!
–ME "Liz" Strauss
Check out the Work with Liz!! page in the sidebar.