Less Is More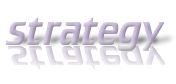 Recently, after a long introductory phone call, I received an email from a client about how he thought I might help his business. The list included almost every facet of online and offline presence and interactions with customers, vendors, and employees.
I was flattered and also bowled over by his commitment. I had to tell him that I needed him to participate equally in making those things reality.
I started to write a response that turned into this blog post.
What Social Media Strategists Don't Know About Growing Your Business
Social media — the tools and social networking sites — have come to be looked upon as some sort of "industry." But it's not. in the same way a mechanic's Craftsman tool kit and his classes in who to use it aren't why we hire him, our fluency with tools and knowledge of sites we use aren't what grows businesses.
The art and the science of a social media professional is understanding your business and helping you choose the right tools and sites that will connect you to the customers who love what you do.
Our experience, our expertise, and our ability to build strategies and tactics that move businesses forward are what can bring, but they're limited by what works in general. The answer for you isn't a "general go do these things."
Strategy is a realistic and practical plan to gain ground over time. It's sets the plan of campaigns and tactics that will gain you visibility, traffic, brand identity, and loyal customers and fans. Upon meeting you and working with your business there are five things every social media strategist doesn't know … (though every strategist should know these things about his or her own offering.)
Is your business culture fit ready to participate and make relationships that last beyond a single transaction? A social media strategist can help you choose and learn how to use the tools to do that, but only you can follow through and make the relationships.
What do you offer that no business like yours offers? How have you removed what customers don't like and enhanced what they love? That single clear message is what your social media strategist can amplify, magnify, and help you connect people with.
What is unique about the customers that you're reaching out to? If you reach out to everyone, you'll look just like the thousands of other businesses doing the same thing. Find that one group who needs what you offer and tailor all you do to make their lives easier, faster, and more meaningful. A social media strategist can help you find those people using the speed and the reach of the Internet.
A social media strategist can help you build tactics to reach goals and grow your business the ways business have been growing since business started … with relationships that stand behind your work and your products and services.
Yet no social media strategist can know whether a business is willing to invite the people who help it grow to participate, collaborate, and be part of what makes that business great.
If you're a social media strategist, how do you find out whether a business is ready to grow? If you're a business how do you know you've got the right social media strategist?
–ME "Liz" Strauss
Work with Liz on your business!!
I'm a proud affiliate of