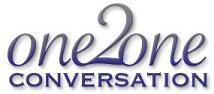 It started simply enough. Dawud and I talked about how to bridge our blogs with conversation. I would explain it. He would design it. Together we would work it out.
How cool is that?!!
We called it One-2-One . . . 1-2-1. It's 1 conversation, in 2 directions.
If I was Dawud a great visual would be here. Imagine an arrow to Dawud's blog and an arrow to you.
I write a question and send it to Dawud. The next day he posts his answer and ends with a question. . . . as he might in a conversation. That's one direction.
While he answers, we can have our own conversation. That's a second direction.
He'll know my question when you do. I'll know his answer when he posts it.
On his blog, the whole thing will work the same in reverse.
He and I won't know beforehand " no problem. . . . it's conversation about
business
strategy
social networking
tangents.
Conversations are unpredictable. That's what makes them fun.
All conversation is an experiment in finding what we know. Isn't it?
Question Question Question
Here's my question.
When I go to your blog I get the feeling there's a back room behind your blog where you work. What work do you do there?
Find Dawud's response tomorrow afternoon at DawudMiracle.com by the one-2-one logo.
Meanwhile, what kind of work do you do in the backroom of your blog?

One2One is a cross-blog conversation. You can see the entire One-2-One Conversation series on the Successful Series page.