This Was Not Pre-arranged
I just got home from a day of meetings. I had plenty of catching up to do. I was getting ready to write a post to make an exciting announcement, but I thought I might check in on a few of my friends first.
Blogger synchronicity!
Can't believe that I found a perfect way to pass on the information I had to share. It was in a one2one conversation response from Dawud.
Dawud, I'd Like You to Meet Muhammad
It seems that one Successful and Outstanding Blogger, the designer of the SOBCon08 blog– Dawud Miracle —
would like to meet another Successful and Outstanding Blogger — a social media rockstar and SOBCon08 presenter, — Muhammad Saleem.
Somehow the two didn't get a chance to meet when they spent an entire day in the same room. . . . at SOBCon07!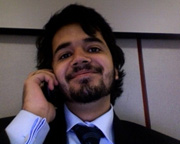 So what's the SoBCon team to do, but do the conference over?
We'll keep doing it, and doing it, and doing it until . . . aw c'mon, word was we got it pretty darn right last time.
The Dates Are UP!!
Oh yeah, the announcement I was going to make: Today we posted the dates, May 2,3,4, 2008.
Click the logo to visit the official SOBCon08 blog.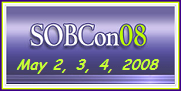 The schedule is up and registration will be opening soon, before the month is over.
Hang in there! The SOBCon experience is rolling again!
If you want to volunteer or join us as a sponsor, leave a note in the contact form.
Who do you want to meet at SOBCon08?
–ME "Liz" Strauss
Work with Liz!!