Be Irresisible!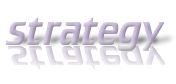 If you've been developing a business online in the last few years, you've probably heard statics regarding the brief amount of time we have to get and keep the attention of first-time visitors. What was almost 20 seconds in 2005 now is being described as something between 8 seconds and 10.
Getting folks to arrive is the first step, of course. In that, an attention-grabbing, killer headline is everything.
Click image to access complete podcast at The Onion.
Whether it is something completely original and novel, ultra-specific and geared towards a niche, or just incredibly compelling, good headlines on the Web always win.
They always win, except when they don't.
If a headline delivers traffic, but the traffic immediately bounces away, can you say the headline wins?
A killer headline will get traffic, but what keeps folks reading?
We have to deliver great content to give that headline legs or that traffic will bounce away.
5 Ways to Deliver Irresistible Content and Lower Your Bounce Rate
Strong businesses are built on strong relationships. What transforms a headline clicker into someone who hangs around? What turns first-time visitors into people who want to stick around? What makes them stay and already thinking about their return? Here are five things you can do to make it more likely they get what they came for.
Five Ways to Deliver to the Clickers Who Follow a Headline to Your Blog …
Deliver content that your headline promises.
Deliver content in short paragraphs using subheads surrounded by lots of white space so that people have room to think and breathe. Add a picture that supports the text and illustrates the content. First impressions count.
Deliver it without making folks jump over ads or through hoops to get to the prize that the headline promises. Decide whether you want me to stay … there are other ways to get me to buy.
Deliver it by responding to the people who take time to comment.
Deliver it by making it easy to find more of what brought people to your site.
It's not the visitor who never came that's a loss. It's the visitor who comes to find that we're not what he or she thought. A great headline followed by something less doesn't win. It doesn't even finish.
The most important thing is deliver — do what we say we're going to do.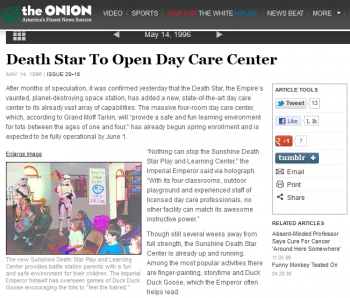 Click image to see complete article from The Onion.
If the content you deliver is easy to access, faster to enjoy or employ, and adds value and meaning to a visitor's life, you can bet that visitors will be glad they came and ready to come back. Easier, faster, more meaningful is irresistible. That's a fact.
Great headline, lame blog post — who wants to deal with that? You've been there. What's your response when you end up on one of those?
Be irresistible.
–ME "Liz" Strauss
Work with Liz on your business!!