By Landon Lourell
If you have your own business, then you'll definitely want to make sure that you use all of the tools available to you in so that you can reach as wide an audience as possible and start building up a platform. One of the most powerful platform building tools out there today is blogging.
Before you jump in and unleash your first blog on the business world, you'll want to make sure that you're doing it the right way. Put your excitement to the side for just a moment and do some research to see what makes a blog popular and what makes a blog a complete waste of time for you and your audience. There are six mistakes in particular that a majority of bloggers seem to make that can tarnish your business blog.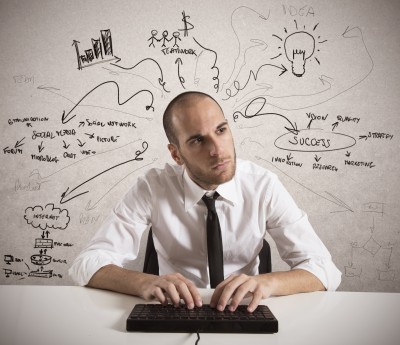 1. Neglecting to Include a Bio
It doesn't matter how magnificent, insightful and informative your blog posts are, readers want to know who you are and what kind of business you have. Be sure that you have a full ABOUT US page somewhere on your blog, preferably in a location that's easy for readers to see. On the ABOUT US page, include a bio and either a picture of you if you're the sole proprietor of your business, or a picture of you and your staff. Doing this allows your readers to connect with you and your business instead of you just being a faceless, nameless blog.
You should also be sure that you have either your name or the name of your business prominently on your blog. The header is one of the best spots for this. By including your name in the header, you'll make it easier for search engines to find you and your awesome blog posts. Your name and the name of your business are your brand, always remember that.
2. Lack of Contact Information
Think of what it's like reading one of the best blog posts you've ever read and wanting to get in touch with the author only to find no sign of contact information. Readers shouldn't have to spend time going over your blog with a digital fine-tooth comb trying to find an email address, website address or phone number where they can reach you or a representative of your business. You never know how many valuable business connections you can make with your blog, but you won't make any at all if no one can reach you. Be sure to add contact information on your ABOUT US page.
3. Lack of Information About Your Services
Let readers know what type of services you offer. Be as specific as possible when describing your services, so that you don't confuse anyone and make sure that your blog posts are relevant to the kinds of service you offer and the industry that you're in. You'll get a lot of raised eyebrows if you're an economist writing blog posts about how to put antique cars together.
Your blog should be a place where you share information, interact with your audience/potential customers, and offer free tips. Readers don't want to feel like they're reading a sales ad for your business every time they visit your blog. There's nothing wrong with a plug here and there, but focus more on giving than getting.
4. Having Too Many Blogs
There's no need for you to have multiple blogs if you have multiple services; all that does is give you more posts and things to write about on the one blog that you have. If you decide to have multiple business blogs, one or more of them is sure to be neglected. Some blogging platforms give you the option of having more than one page for your blog where you can post about different subject areas. Readers don't want to have to bookmark all three of your business blogs when it's better and easier for the both of you for you to just have one blog. If your readers receive an email notification every time you post a new blog and you update all of your blogs on the same day, you'll clutter up their inbox, which is a huge no-no.
5. Not Including a Link to Your Website
Be sure that you include a link to your business website on your blog. Think of your blog as another chapter in your novel. Give your readers a table of contents so they know exactly where to go when they're in need of a certain type of information. With links, you'll want to be careful that you don't have too many of them as this can potentially scare readers off. In today's fast paced world where most people have a short attention span, who has the time or the desire to click through ten different links? Besides a link to your business website, include links to any articles or guest blog posts that you've written or that your business is mentioned in.
6. Making Commenting All But Impossible
Making readers jump through a variety of hoops just to leave a comment will more than likely frustrate them and cause them to abandon the whole thing. When you get a sizeable audience, you might have to be more diligent about keeping out spambots, but in the beginning you don't really have to worry about them too much.
While these are the most common blunders to avoid on your business blog, a few more you'll want to avoid include filling your blog with unnecessary graphics, having long load times for your blog and blogging inconsistently. Have fun with your blog and make it your own, but make sure that you have a few ground rules in place before you start.
What are some of the most glaring errors and missteps that you've noticed on other blogs, business or otherwise?
Author's Bio: Landon Lourell is a marketing associate with MonsterDisplays, an online source for trade show displays. Landon is passionate about all things business marketing related and enjoys sharing his knowledge with others through blogging.