A Guest Post by Scott P. Dailey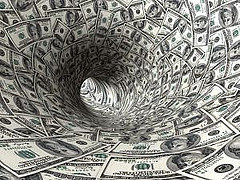 My portfolio is comprised largely of passionate, cash-hungry small shops, boutiques, niches and nonprofits. I do work with big companies now and again too, but they're the exception to the rule and thus, I won't be spending time talking about them in this post. No, this post is for the small consultancy that's servicing the small, proud brick and mortar.
OK, so here it is: I guarantee my work. If I'm designing your Web site layout for instance, I take a 50% deposit that sits in escrow until you approve the layout and the balance you cough up once you're 100% satisfied with the finished result. With Web design, my contracts call for me to create at least two unique layouts, put them both under your nose and get your approval of one of the two. I even offer you several complimentary rounds of change before requesting your approval. If you don't approve, you get your money back. If you want to abandon the project before providing approval, you get your money back. I guarantee you're going to love your new layout and if you don't, I give back your money. If I'm writing copy for you, I refund your deposit if you don't like my copy. And if your unhappy with the content of your first monthly SEO/social media report or feel I have fallen short on a promise, I refund your money – period.
My customers are very careful how they spend money on their business. Not so oddly, those deep in the black are even thriftier than those sucking wind. In the red or the black, my customers get sticker shock easily. I know this. So, where I may not always be willing to remove the stunned disbelief from their faces with a crazy discount, I do try to allay their spending remorse by making simple guarantees that protect their investment in me.
I don't want your money that badly.
If you don't think I've earned it, then I refund it. The relationship is the ultimate prize, not you paying this month's electric bill.
How do you shift the client's focus from money to forging a bond with you? How do you prove your customers won't regret hiring you?
—–
This is the first in a two-part series.
Scott P. Dailey is a Web designer, copywriter and network administrator. Recently Scott launched ( http://scottpdailey.com ), his social media blog that makes connections between social networking etiquette and the prevailing human social habits that drive on and offline business engagement patterns. You can connect with Scott via Twitter at @scottpdailey.
Creative Commons License photo credit: RambergMediaImages
Thanks, Scott!
–ME "Liz" Strauss
Work with Liz on your business!!
Successful-Blog is a proud affiliate of