Todd Hoskins Reviews Tools for Small Business
Todd Hoskins chooses and uses tools and products that could belong in a small business toolkit. He'll be checking out how useful they are to folks who would be their customers in a form that's consistent and relevant.
Rapportive
A Review by Todd Hoskins
If you do not use Gmail for personal or business use, sorry, this review is not for you. Please come back again next week. If you do have a Gmail account, or your business utilizes Gmail, install the Rapportive plug-in. Believe me, it will be worth it.
Why?
Rapportive removes the ads on the right column of your Gmail page, and replaces them with the social network information of the person sending you an email. This is simple social CRM, immediate information on where to find and interact with friends and customers outside of email. A field to take notes. And, it's free.
Your browser may not support display of this image.
The latest tweets, job information from LinkedIn, and geographic location all help provide context. For a salesperson, entrepreneur, executive, or customer service representative, the value of getting information right within your browser saves time, can help you prioritize responses, and allows you to know more about your customer than their email address. The notes section is handy for recording birthdays, kids, and conversation cues.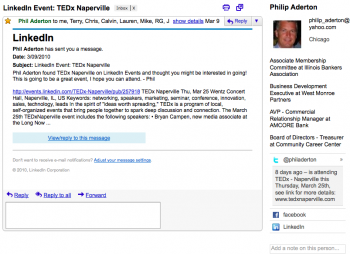 Takes less than two minutes to set up. Privacy concerns are minimal because Rapportive only has access to your contacts, not your Gmail password. (Thank you OpenID). The Rapportive extension is available for the Firefox and Chrome browsers.
Summing Up – Is it worth it?
Enterprise Value: 3/5 – more complex CRM's are available, but this is simple if you have corporate Gmail.
Entrepreneur Value: 5/5 – Bridges the personal and the professional and saves time.
Personal Value: 5/5 – Did you know Johnny had a Flickr account? Now you do.
—-
Thanks, Todd! You can find Todd on Twitter @ToddHoskins
I've installed the plugin. It's not perfect, but it's already way more useful than the ads it replaces!
What about you? Have you used it? What do you think of Rapportive?
–ME "Liz" Strauss
Work with Liz on your business!!
Register Now!! for