A Calling
When I was 7 years old, my teacher told me to listen for my calling. She said if I listened to my heart and my mind, I would find the future that was right.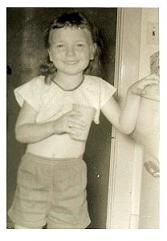 My teacher said "You'll know because you'll be making a difference in people's lives." I remember exactly where I sat when I let her words into my head. That's when I started thinking about the possibilities.
I grew up with more curiosity than wisdom. I traveled with my feet on the ground, my head in the sky. I needed 23 lives to follow the callings I heard. . . . be a teacher, be speaker, be a writer. I wanted to build things and fix things, and of course, to be smart, wealthy, and rich. I wanted the life of a freelancer and the community of a company at the same time.
I tried them all — even tried a few more that came along.
Still that thought hung with me, You'll be making a difference in people's lives.
I ended up an educational publisher. For a while, I felt it might be my calling, but I wondered was I really making a difference or just making books? I worked freelance. I worked company jobs. I worked on projects of so many kinds. I not only loved publishing; I knew, for sure, that I'd never get bored.
Then I did.
I went off on my own again.
Was I Called?
A friend did call to ask me, if I would write a blog for a science education company. I thought I'd better find out what was involved before I answered. So I started a blog.
Early on I met the most excellent people — so many of them — and found IT changed MY life! Though I went down some windy roads, when I thought of giving up, one of those first friends, Jeremy, said, "Why don't you join b5media instead?" Though the network was plenty busy with the work of being born, they didn't blink before they took me in. Suddenly I was a freelancer in a thriving community.
Later that year, Darren set a challenge to write blog goals. I wasn't going to participate, but I did. That's when I found that my blog is my home. That's when I realized how much I am like my dad.
If you read what I wrote, it says,
You see, my father didn't work at the saloon. He lived it. He also earned enough to feed a family and send three kids to school. Somehow in doing that, he managed to make a difference in people's lives by sharing what he knew and who he was.

My blogging goal is to do the same thing
with my blog that my father did with his saloon.
and that's why I blog.
As for why I keep blogging, well it's because every now and then I'll get an email that says
Aside from business, people desire answers, they are hoping that someone believes that there [are] answers, and that just maybe, they can have hope too. — Steve
and it makes me think I might be making a difference.
"Follow your calling" she said.
Thank you for helping me know what my calling is.
Now will you tell me? Is it a calling, a hobby, a quest?
Please tell me. Why do you blog?

The question, "Why Do You Blog?" is final week's challenge of the b5media Apprentice Challenge. Over 30 blogs on the b5 Business Channel started the quest, only four are left: Accounting Solver . . .Home Biz Notes . . . Greener Assets . . . Successful Blog.
The winner will be chosen from one of these four.

Will you join in deciding who becomes the b5media Apprentice? Every comment you leave on a final challenge post counts as a vote! The voting is open until January 7th. So c'mon tell me why you do you blog!