by Patty Azzarello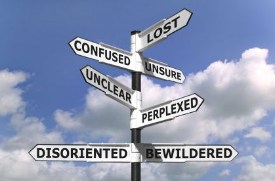 Hidden Expense…
Uncertainty is a huge hidden expense in your business.
There's the obvious expense of work not getting done — as uncertainty causes people waiting for decisions instead of working. But the more damaging and expensive side of uncertainty is the work that gets done the wrong way.
The wrong work
Unresolved strategic issues, don't just stay in the board room until you finally get them answered.
Every unanswered strategic question leaves legions of people in your organization, less productive and more expensive than they would be with clear direction.
It's the inconsistent work that comes from everyone taking their best guess while waiting for the strategy from above, that is expensive.
As a leader one of your biggest responsibilities is to remove uncertainty.
Strategic Chaos
What are the unresolved strategic issues in your company?  What are the decisions that are never seem to get closed?
Are we a product or service company? Should we do an exclusive agreement?  Should we be selling through different partners?  Should we upgrade our architecture, or build on the one we have?  Should we change our pricing for global customers or optimize regionally?
The true cost of indecision…
It's not that strategic unanswered questions go answered that causes the problem. It's that they get answered every day, differently, by front line employees who are making the best choices they can in the moment for how to implement their work.
A tale of 2 business units:
An interesting example of this is a company I worked with that had two business units.  At the executive level, it was a political war.
They could not commit to a decision if one or the other business unit was the primary mission of the company, or if both businesses should get equal attention and investment.
So what happened…
Hundreds of front line, individual contributors had to wonder, debate and make up their own answer to the most strategic decision in the company: What business are we in?

Yikes! A customer-facing, unsupported strategy…

A specific, downstream effect of this was that every trade show event manager had signs for both businesses in their inventory.  So they each had to decide on their own, Do we hang one sign or both?  Do we make one bigger? Put one on top? Or give them equal treatment?
They all did their best, but of course they all made different decisions.  And different local politics ensured that the company was never represented the same way twice!
Because the executives left this uncertainty, the most fundamental positioning of the company was executed differently at every event.
Failure to build value, and wasted time and money…
The company shot them selves in the foot at every event, failing to build their credibility and recognition consistently in the market.
Your job is to eliminate uncertainty, so that everyone can invest in executing in an aligned way, to build value, market confidence and brand.
This is true for every function and every team in the organization. And this has a huge ROI.  Failure has a huge expense.
How do you deal with uncertainty is in your organization?
This is at the heart of the work I do with my corporate clients.  It is so important, and profitable, to create clarity, concrete actions and motivation both at the executive level AND with all of the employees.
We all wish we got more clarity and strategic decisions from above. How do you remove uncertainty for your team?
Please leave your suggestions and experiences on this in the comment box below. It's so important.
—–
Patty Azzarello works with executives where leadership and business challenges meet. She has held leadership roles in General Management, Marketing, Software Product Development and Sales, and has been successful in running large and small businesses. She writes at The Azzarello Group Blog. You'll find her on Twitter as @PattyAzzarello
I'm a proud affiliate of