Perceived Productivity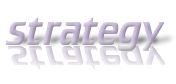 Working with senior managers and social media practitioners I'm hearing on complaint all too frequently "I'm too busy to think." It seems that just keeping up with what we need to do has become more than even deciding whether we should be doing it.
Do you see the irony in that?
It's time to reset and start thinking again.
We need time to decide when a Yes and a No come calling.

Stop Being Overwhelmed, Directionless, Too Busy To Think
When we're feeling too busy to think, we've lost direction. It starts a cycle that will unravel any good thinking we might have done in the past. We've got energy and productivity, but lost sight of the strategy or outcome that guide our decision making. Without the end goal, we can't accurately decide what's moving us forward and what is not.
Catch yourself. Stop. Set a destination, a driving aspiration, something you won't quit or call success until you reach it.
Make a commitment.
If you're new at this, start small, but make a personal and professional commitment to a future destination and hold yourself and your team accountable. Get clear agreement on what that means.
I (we) will be ___ in the next ___ (days, months, or years)?
That clarified goal will let you know …
why you're doing what you're doing.
which relationships and offers align with your goals and which pull you off course.
how to separate the signal from the noise on your desk, in your work relationships, in your life online and offline.
where to spend your time in social media spaces. .
how to tweak opportunities to move you forward more quickly and efficiently.
Clarity comes from looking forward far enough that the noise of now doesn't confuse us. Don't think of defining your purpose in terms of now. Define a future destination worth investing in — even a small one — and get there with clear determination.
That determination will lead you to build the strategy, gather the right team, build the systems, and get out the message about what you're doing.
Once you make that first decision, you'll be setting your direction with more power and certainty.
What small commitment will make to yourself, your team, your business today?
–ME "Liz" Strauss
Work with Liz on your business!!
I'm a proud affiliate of